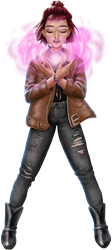 STOCKHOLM (PRWEB) February 08, 2019
Star Stable Entertainment, maker of the online multi-player PC game built for independent tween/teen girls who love adventure, today announced its new music label – Star Stable Music – with distribution on nearly 40 music sites including Spotify and Apple Music. Star Stable is driving innovation in both gaming and music by making gamers' favorite in-game songs accessible any time to enjoy and share – vastly extending the reach of the game beyond the screen. The first single, by Star Stable character Lisa Peterson titled "I'll Be There," is available today.
This is the first time Star Stable has created original music for out-of-game streaming and download. A teaser of "I'll Be There" was released in the game in December 2018 and was streamed more than three million times in just three weeks. The company conducted a nationwide search for the right musician to personify the beloved character Lisa Peterson, and record music under her moniker. Others recording artists, across different music genres, will be announced later this year.
"Expanding into music is one of the most powerful ways to continue to connect and inspire tween/teen girls around the globe, as well as lead the industry as a whole – including games, entertainment and music," said Taina Malén, Chief Business Development Officer (CBDO) and COO, Star Stable Entertainment. "We believe that music delivers our message in an inspirational way and offers a great opportunity to provide role models for our audience through the talent with whom we partner."
Star Stable is the fastest growing horse game in the world with nearly 15 million registered users in more than 180 countries. "Expanding into the music industry will increase the time interacting with Star Stable universe, and we can't wait to engage our players out-of-game as well," said Malén.
In-game Character Debuts as a Real-life Music Artist
Star Stable Music is the music label that bridges the Star Stable game with popular music streaming services. The game's characters "come to life" and are uniquely represented with real-life talent. Lisa is the first Star Stable character to record and publish music outside the game, propelling her from a game character into a legitimate musician.
Lisa Peterson is voiced by Amanda Örtenhag, an accomplished musician based in Sweden. Star Stable Music is the first recording label to sign her as an independent artist.
Music to Drive Next Evolution of Community Engagement
Building on Star Stable's fandom, the company is inviting its community of savvy content creators to use their creative skills to make their own music videos reflecting the essence of the song "I'll Be There." Unlike a conventional user-generated campaign, Star Stable hopes to inspire girls everywhere not only to consume media, but also produce content to tell their stories.
Girls can participate by visiting the Star Stable website to access to music and art assets, plus instructions for participation in the #IllBeTheChangeChallenge. Star Stable will publish a playlist of all the videos on the Star Stable YouTube channel on February 28.
About Star Stable
Star Stable is an online multi-player adventure game that encourages girls to work together to solve problems and complete challenges while exploring the fantasy world of Jorvik from horseback. This online 3D game world was built for girls ages 8-16 with a passion for horses and adventure and is the fastest growing horse game in the world with nearly 15 million registered users and growing. Star Stable is played in over 180 countries worldwide and has been translated into 14 languages. The Star Stable game (Star Stable Online/SSO) is owned, developed and operated by Star Stable Entertainment AB, based in Stockholm, a hub for global startups and gaming phenomes.
Media Contact:
Zebra Partners
Michele Spring Fajeau
michele(at)zebrapartners.net