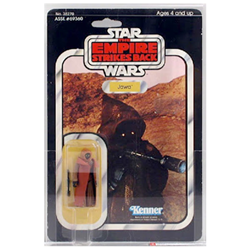 CLEVELAND (PRWEB) May 03, 2019
"Star Wars" collectibles are a "force" to be reckoned with. The movie franchise started with a cultural cosmic blast in 1977 and the action figures from that original movie are attracting most collectors. Forty-something men and women, flashing back to their days of tearing into the packaging to get to Han Solo, Princess Leia or Luke Skywalker action figures will weep when reading that those 1977 toys, in original, pristine packaging, are bringing between $2,500 to $18,000 each.
The No. 1 "Star Wars" collectibles are not the rare prototypes, but the 1977 action figures. The original 1977 "12-Back" action figures are so named because the back of the cardboard packaging has pictures of all 12 action figures. To get top money, the packaging must have no creases or tears, the plastic bubble around the figure should not be yellowed or bent, and, ideally, the small hole at the top used to hang the figure on hooks in stores must be unpunched.
Also, collectors should look for an AFA rating. A 90 or better grade means the collectible is nearly pristine.
Other top "Star Wars" collectibles are:

Boba Fett from "The Empire Strikes Back" (1980) from the "21 Back" or "48-Back" sets. A limited-edition Boba Fett in a mint condition box with a special gold coin in the box sold recently for $3,500.
A Jawa action figure in a vinyl cape. An original 1978 "Vinyl Cape Jawa" sold for $18,000 in 2015.
A rocket-firing Boba Fett. It was taken off the market because it was considered unsafe. One was featured on an episode of "Pawn Stars" and was valued at $150,000.
Early series LEGO series (2007). A mint condition (unopened) LEGO, 195-piece Millennium Falcon was sold on eBay in 2017 for $16,000.
Collectors certainly love their "Star Wars" figures!
May the force be with you!
About Kovels
Kovels.com, created by Terry Kovel and her daughter, Kim Kovel, provides collectors and researchers with up-to-date and accurate information on antiques and collectibles. The company was founded in 1953 by Terry Kovel and her late husband, Ralph. Since then, the Kovels have written more than 100 books and hundreds of articles about antiques, including the best-selling annual Kovels' Antiques & Collectibles Price Guide. Their nationally syndicated antiques and collectibles column is distributed by King Features Syndicate to many newspapers nationwide. Terry and Ralph starred in television series on PBS, the Discovery Channel, and the Home & Garden Television (HGTV). The website, Kovels.com, has been online since 1998. It offers more than a million free prices, and includes a free weekly email called "Kovels Komments," giving readers a bird's-eye view of the market through the latest news, auction reports, a Marks Dictionary, readers' questions and answers and much more.