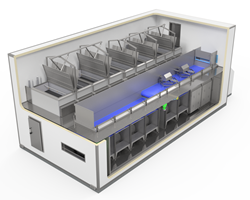 SUFFOLK, United Kingdom (PRWEB) November 03, 2021
International cooling solutions provider Starfrost has delivered a high performance quick freezing solution.
In the food processing industry, IQF stands for Individually Quick Freezing - a rapid freezing method designed for large quantities of loose products. As an essential process for food manufacturers producing frozen products such as vegetables, fruits and berries as well as rice, shrimp and diced or cubed meat, the performance and reliability of the freezing system is paramount to successful production.
Individual quick freezing is achieved with IQF freezing equipment and it is vital for frozen food processors to implement effective IQF technology to guarantee premium quality food products. Freezing equipment that delivers high quality IQF will maximise product yield and, combined with equipment efficiency, will enable greater throughput and in turn greater profitability for food processors.
Starfrost worked with a vegetable processor to design a new IQF tunnel system to maximise operational hours and effectively freeze large capacities of frozen rice.
The Turbo IQF Tunnel utilises a twin belt fluidisation system. The first belt zone provides crust freezing and features a vibratory conveyor which creates a wave like motion to gently separate the rice grains. Rapid surface conditioning ensures optimum appearance and yield while preventing product clumping and sticking. The second and final belt of the Turbo is a deep freezing zone to complete the freezing process after the initial crust freeze.
The Turbo IQF Tunnel features a Starfrost sequential defrost system, highly efficient technology that enables the vegetable processor to continuously freeze 24 hours' day for up to 6 days, without the need for to stop production to defrost the freezer. The addition of sequential defrost system means the freezer coils are defrosted in a pre-programmed sequence during production allowing for significantly longer operational times.
Designed with flexibility in mind, the freezer is adaptable to freeze other food products, which allows the vegetable processor to expand production to freeze peas and beans during the harvesting season. The cutting edge solution from Starfrost has been custom built to fit seamlessly into its existing processing line, and with the latest in IQF technology, the company has benefited from product quality results and gained valuable production time.