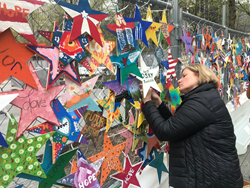 "Stars of HOPE is a terrific partner for our corporate volunteerism program," said Bob McCarthy, New York managing partner, Dentons.
NEW YORK (PRWEB) November 21, 2019
For more than 12 years, Dentons, the world's largest law firm, has selected Stars of HOPE, the world's largest and fasting growing healing arts program, as a community service partner. The partnership continues in 2019 with ongoing corporate volunteerism efforts and will culminate with serving communities in need during the holiday season. Together, by harnessing the creativity and compassion of Dentons' New York employees to create Stars of HOPE, the organizations have supported the emotional recovery of individuals and entire communities in the aftermath of tragedy.
"Stars of HOPE is a terrific partner for our corporate volunteerism program," said Bob McCarthy, New York managing partner, Dentons. "Working with Stars of HOPE provides meaningful team building experiences that enable our employees to provide disaster relief and participate in the recovery process for those impacted by disaster."
Stars of HOPE provides Dentons with unique, in-office volunteer opportunities perfect for service day events, significant anniversaries such as 9/11, and real time response to natural or man made disasters. Through painting projects with Stars of HOPE, Dentons has brought hope to numerous communities around the world including El Paso, TX following a mass shooting, the Florida Panhandle impacted by Hurricane Michael, the Madrasat Ashtar Refugee Camp in Erbil, Iraq to lift the spirits of children displaced by war, the community of Fort McMurray, Alberta, Canada in the aftermath of the wildfire, and to Nepal to support the children impacted by the earthquake.
Stars of HOPE provides an in-office, hands-on opportunity to make a personal contribution and a positive, lasting impact as a group. A valuable team building exercise, employees paint colorful, heartfelt messages on 12" blank wooden stars and then send them to anyone who needs hope in the world, no prior training or artistic experience needed. The project is designed to be turn-key, with each Box of HOPE containing everything needed for a creative, meaningful pay-it-forward service event. Stars of HOPE transform communities after a natural or human-caused tragedy and serve as beacons of compassion to help build the resilience of survivors, first responders, and communities.
"Our corporate volunteer work with Dentons has enabled us to deploy Stars of HOPE around the world," said Jeff Parness, founder and executive director, New York Says Thank You Foundation, the volunteer organization that runs the Stars of HOPE Program. "We hope the incredible impact we've made through our partnership with Dentons inspires more corporate partners to join us in creating more hope in the world."
At the intersection of mental health and art, Stars of HOPE is pioneering communal art therapy on a global scale. Popping up in 26 countries and 270 communities across the globe, Stars of HOPE have aided in the emotional recovery of communities recovering from catastrophic natural disasters like tornadoes, hurricanes, wildfires, and floods and human-caused tragedies like mass shootings, hate crimes, industrial accidents, and war. Deployed in many ways, the stars serve as beacons of hope and bring words of comfort and strength from people around the world; they have been presented to first responders as an expression of gratitude and displayed in medical institutions as a symbol of hope and compassion to patients.
Stars of HOPE offer a unique volunteer opportunity that empowers employees to participate in disaster relief and recovery from their office or headquarters. Project ideas include team building, corporate or community day of service, take your child to work day, employee on-boarding activity, sales meetings, and more. Through Stars of HOPE's Box of HOPE, available for $100 at StarsofHopeUSA.org, people of all ages can support those in need by creating and displaying colorful art and messages of hope and healing. Each box contains 15 12" wooden stars, six bottles of acrylic paint, and 25 assorted paintbrushes. For each box purchased, Stars of HOPE provides another box to a family or community in need. Once the stars are painted they can be personally delivered to the intended recipient or sent to the organization's Hope Bank where they will be deployed to a community in need.
More than 60 organizations, including a number of Fortune 500 companies, participate annually with the Stars of HOPE corporate volunteer engagement program. For more information on how to partner with Stars of HOPE or examples of how companies have incorporated Stars of HOPE into their employee engagement strategy, please visit the organization's corporate partner page.
ABOUT STARS OF HOPE
Stars of HOPE® is the world's largest and fastest growing healing arts program. It is a unique disaster response and community arts program which empowers people of all ages to transform communities impacted by natural and human-caused disasters by creating and displaying colorful art and messages of hope and healing. The Stars of HOPE® Box of HOPE program allows anyone, any age to express their compassion through creativity and connect to people in need of hope anywhere in the world. For more information, to volunteer, donate, or sponsor a project, please visit http://www.starsofhopeusa.org
Stars of HOPE® is a registered trademark of New York Says Thank You Foundation.
ABOUT DENTONS
Dentons is the world's largest law firm, delivering quality and value to clients around the globe. Dentons is a leader on the Acritas Global Elite Brand Index, a BTI Client Service 30 Award winner and recognized by prominent business and legal publications for its innovations in client service, including founding Nextlaw Enterprise, Dentons' wholly owned subsidiary of innovation, advisory and technology operating units. Dentons' polycentric approach, commitment to inclusion and diversity and world-class talent challenge the status quo to advance client interests in the communities in which we live and work. http://www.dentons.com
# # #