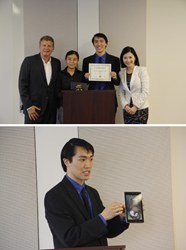 It's great that such an experienced panel of judges unanimously recognizes the value of GeriJoy, not just in America, but also internationally.
New York, NY (PRWEB) August 12, 2013
CorpStarter™ Business Accelerator announced MIT startup GeriJoy as the winner of its North American Venture Competition. At the finale event on August 8 in New York, NY, an expert panel of judges awarded GeriJoy the top prize, which includes exclusive investment and business opportunities, and entry to the international stage of the competition. GeriJoy provides virtual companions for the elderly, and has received national acclaim from organizations like AARP, TEDMED, the US Senate, and CNBC.
GeriJoy Founder & CEO Victor Wang stated to the press, "I'm honored to accept this award on behalf of the GeriJoy team. It's great that such an experienced panel of judges unanimously recognizes the value of GeriJoy, not just in America, but also internationally."
GeriJoy's recent success is being covered by a variety of Chinese news agencies, including Xinhua News Agency, the largest in China. GeriJoy has previously garnered interest from both government and corporate stakeholders in China, and was invited as an honored delegate at the Beijing International Technology Transfer Congress in April. Due to both demand from Chinese-speaking customers in the United States and also the size of the international senior care market in China, GeriJoy has expressed its intent to offer a Mandarin-speaking version of its virtual companion for the elderly.
The competition's distinguished panel of judges included Brian Cohen, a professional angel investor and Chairman at New York Angels; Dr. Daxi Li, a tech angel investor and Chairman of Chinese Association for Science and Business (CSAB); Dr. Alan Paau, Vice Provost of Cornell University; Lijie Zhu, Managing Director of Dragon Gate Investment Partners and recipient of Outstanding 50 Asian Americans in Business; Gary Jiang, a senior consultant in financial services and e-Commerce; Harry Krausman, Managing Director and Principal at Cassidy Turley; Joseph Daniels, Managing Partner of Loeb & Loeb; Peter Lau, president of Greenstone Holding Group and Managing Director of Buckman, Buckman & Reid; Tony Chen, Vice President of China Unicom America Operations; and Walter Huang, a VC veteran with 230,000 followers on Sina Weibo.
The competition ended with a networking cruise gala on the Hudson River.
About GeriJoy
GeriJoy Inc. was founded by MIT researchers Victor Wang and Shuo Deng to improve quality of life for seniors and their families through friendly technology. The GeriJoy Companion, their flagship service, is a virtual pet that is backed by GeriJoy's worldwide team of 24/7 care staff. The staff guides the pet's speech to provide elders with the experience of having an always-available conversational companion that can talk with them about family photos and other information from the Internet. Essentially, the GeriJoy Companion is a talking dog or cat that serves as a helpful family member, not only improving mental health for elders but also providing peace of mind for caregivers. GeriJoy has been recognized by organizations like AARP, TEDMED, and the US Senate as a leading innovator in senior care. The company is based in Cambridge, MA, and is backed by investors such as Blueprint Health and Esther Dyson. To find out more, or to order GeriJoy's service for your own family, please visit http://www.GeriJoy.com or email info(at)GeriJoy(dot)com.
About CorpStarter™
CorpStarter™ is a New York based accelerator for growing companies, with an open application process, taking in earlier stage companies consisting of small teams, supporting them with funding, mentoring, training and office space. As a truly differentiated accelerator, CorpStarter™ collaborates with China's innovation industry parks to host an annual national competition in the United States to handpick the most qualified entrepreneurs.