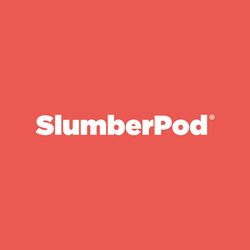 ATLANTA (PRWEB) July 24, 2018
Dovetail Essentials, a Georgia-based startup that aims to make traveling with children easier, announced today the launch of its first product: SlumberPod®. The patent-pending product is a quick-assembly privacy pod that helps babies/toddlers (and their parents!) get a good night's sleep, which is especially important when sharing a room with others (e.g., hotel room). Today's launch includes a Kickstarter pre-sale campaign running through August 23 with the first units to ship as early as August and special Day One discounts.
SlumberPod is the first portable privacy sleep nook that allows babies to sleep in their safe and familiar playard (travel crib) with room to sit up or stand up inside. The bottomless privacy pod completely encloses most standard playards or travel cribs and is lightweight, compact, dark inside to create an optimal sleep environment, easy to set up, made of breathable fabric, and outfitted with ventilation windows. The pod passes applicable consumer product safety tests and is equipped with a pouch for a baby monitor.
"The idea for SlumberPod came from many sleepless nights while visiting family or staying in a hotel with our first daughter," said Katy Mallory, co-founder of SlumberPod. "She was a great sleeper at home, but when we were in the same room together, she'd see us across the room and be up all night. It was miserable." Afterward, Mallory searched for a product that would help and didn't find anything that fit the bill.
While doing market research, co-founders and mother-daughter duo Katy Mallory and Lou Childs found that many babies and toddlers have struggled to sleep well when sharing the room with others — especially when out of their normal routine, such as when traveling. SlumberPod is also a great solution for naps in bright or unfamiliar places.
"In order to rest well while traveling, parents are resorting to shelling out additional money for an adjoining hotel room or suite, hiding out in the hallway or on the balcony while their baby goes to sleep, cobbling together unsafe sleep nooks or putting their baby in the bathroom," said Childs. "While staying with family, it can be disruptive to everyone when a little one wants to 'party in the middle of the night' after seeing others in the room."
In a survey Mallory and Childs conducted, 85 percent of the 600 respondents said they have children who sleep well at home but don't sleep as well away from home. Many parents admitted they avoid traveling with their small children out of fear of everyone sleeping poorly. In beta testing, SlumberPod beta testers found that the product helps by creating nearly total darkness and privacy.
"Not only are we creating a product that we believe will help countless families, but it's been a dream to co-invent a product and launch a company with my mom," Mallory shared.
Childs added, "Katy and I work so well together, and both care tremendously about building a company that makes an impact."
Launch parties are being held today in both Columbus and Atlanta, Georgia, today where fans and the media can demo SlumberPod first-hand. For more information, see SlumberPod's Facebook page and website.
About SlumberPod
SlumberPod is a juvenile products brand created by Dovetail Essentials, LLC, a mother-daughter duo. They believe traveling with young children can be less stressful and more restful with the right gear and attitude. For more about SlumberPod and their inventors' story, visit http://www.slumberpod.com/.
Like us on Facebook and follow us on Instagram @slumberpod, Twitter @slumberpod and YouTube for videos and product announcements.
For media enquiries, please contact contact(at)slumberpod.com.