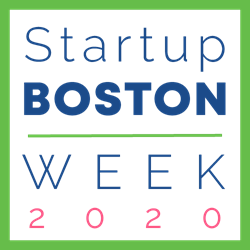 "I was really impressed by how diverse and inclusive Startup Boston Week was. It was clear every effort was made to include people of different backgrounds, industries, and levels of experience." - Selam Gano, Startup Boston Week speaker
BOSTON (PRWEB) October 08, 2020
Startup Boston, an organization offering events for the development and celebration of the entrepreneurs, startup employees, investors, and mentors who push boundaries and solve tough problems, recently wrapped up its fourth annual Startup Boston Week. The event, which ran from Sept. 21-25, 2020, was entirely virtual. Nearly 3,500 people attended the virtual events, an increase of 30 percent from last year.
"We started our venture, Glimpse Health, two months ago," said Dave Peak, CEO, Glimpse Health, Inc., who attended the event. "With Startup Boston Week, we were energized to connect and explore startup topics with such a motivated community of experts and entrepreneurs. The event greatly accelerated our knowledge and progress in several areas and we are grateful."
The week featured 70 events across 10 tracks: Founders & C-Suite, Customer Success & Support, People Ops & Team Leaders, Sales & Marketing, Product & Design, Engineering, Startup Community, Investors, Students, and Data. The event featured more than 260 speakers.
"Speaking at Startup Boston was a fantastic opportunity to connect with the wider startup community, said Mohamed "Hassan" Kane, lead data scientist at Entropy Labs, and a speaker at Startup Boston Week. Kane said he moved back to Boston earlier in 2020 and the COVID-19 pandemic "made it difficult to connect with other entrepreneurially minded people from the area. Startup Boston helped fill that gap with a dedicated volunteer team, thoughtful topics and diverse panels. I'm looking forward to the opportunities unlocked for the wider Boston innovation ecosystem."
Diversity and inclusion was a focal point for Startup Boston Week organizers. More than half of the speakers at the event were women. Similarly, more than 50 percent of speakers were people of color.
"I was really impressed by how diverse and inclusive Startup Boston Week was," said speaker Selam Gano, product engineer for robotics and sensors at Pendar Technologies. "It was clear every effort was made to include people of different backgrounds, industries, and levels of experience."
Stephanie Roulic, founder of Startup Boston Week, who was recently recognized by the Boston Business Journal in its Power 50 for 2020, said that this was all by design. "It's been a year filled with sadness and conflict and it was critical for us that our event represented all of what's great about the startup community in Boston. It takes people of all backgrounds and experiences to drive the innovation culture that thrives throughout Boston."
"We appreciate the participation of all our speakers and attendees and, most of all, our volunteer staff," Roulic added. "We have an unbelievable team that works for free so we can continue to provide free events to the startup community in Boston."
To learn more about Startup Boston programs and to get involved, please visit: http://www.startupbos.org.
About Startup Boston
Startup Boston is strengthening Boston innovation by educating, connecting, and celebrating entrepreneurs. Created by the community, for the community, we create events rooted in the development and celebration of people who are pushing boundaries, solving tough problems, and asking every day - how might we do this better? Our events are designed to be a platform through which innovators can learn from and challenge one another, build new partnerships, strengthen ties, and celebrate both failure and growth. More information can be found at http://startupbos.org or on Twitter @startupbosorg.
Media Contact
Phil LeClare
phil@leclarepr.com
617-209-9406