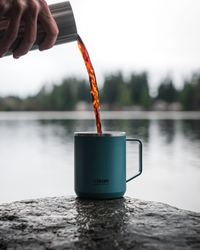 BOCA RATON, Fla. (PRWEB) April 21, 2021
The Clean Hydration Company today introduced its lineup of easy-to-clean, antimicrobial bottles and drinkware that help prevent the growth of bacteria on the dirty exterior of reusable water bottles, tumblers, and coffee mugs. The proprietary designs include germ protection along with The Clean Hydration Company's new CeraTech ceramic coating. Created to preserve the flavor of coffee and tea, this technology eliminates the unpleasant metal taste that often accompanies other brands of steel mugs and tumblers.
The company's new, vacuum insulated steel bottle, aptly named the Canteen 17, incorporates the company's trademark removable bottom cap, which allows consumers to easily clean the interior of their bottle and helps to prevent the build-up of mold and grime. The Canteen 17 takes the company's traditional design a step further by allowing consumers to stand the bottle upside-down and fill the bottle with ice cubes or protein powder through the bottom opening.
Available in a variety of unique colors, the new lineup of reusable bottles and drinkware melds form and function and includes the following models:
Canteen 17 – MSRP $24.99
Tumbler 20 – MSRP $22.99
Mug 12 – MSRP $21.99
Sport 23 – MSRP $15.50
Sport 20 – MSRP $14.50
"We are pleased to finally make this announcement," said company President, Brandon Bernardo. "Our team has done an outstanding job over the past year developing these new and exciting products."
The company says its new collection of steel drinkware will begin shipping immediately, while new sport and cycling bottles will begin shipping soon after. Orders are now being accepted at cleanhydration.com.
About The Clean Hydration Company:
The Clean Hydration Company (formerly Clean Bottle) was launched in 2010 with a guerrilla marketing campaign at that summer's Tour de France, and later, an appearance on the ABC series "Shark Tank." Products from The Clean Hydration Company are now featured in over 5,000 stores nationally, with a variety of bottles for cyclists, hikers, runners, yogis, Crossfit enthusiasts, and more.