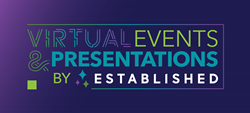 To support early-stage startups during this heightened time of caution, Established will produce four additional small Startup of the Year Online Pitch Competitions that lead up to the 8th Annual Summit, giving founders a platform for growth and increased exposure. Jen Consalvo (Co-CEO)
WASHINGTON (PRWEB) May 27, 2020
In advance of the 8th Annual Startup of the Year Summit, taking place virtually late fall, Established will produce four additional online pitch events for early-stage startups; the winner of each pitch event will earn a Top 100 Semifinalist spot at Summit, where the 2020 SOTY competition will culminate.
To be held in throughout the year, each online pitch competition will have a different focus and an esteemed panel of judges. The first event will take place on Thursday, May 28 from 1:00 - 2:30 PM EDT and will celebrate female founders and will feature industry experts such as Jean Case (National Geographic Society, Case Impact Network), Cheryl Campos (Republic), Eric Bahn (Hustle Fund), Jesse Draper (Halogen Ventures), and Phil Nadel (Forefront Venture Partners).
"Established is proud to produce four additional mini-Startup of the Year Online Pitch Competitions to both build momentum towards the 8th Annual Startup of the Year Summit and create additional opportunities to support early stage founders and their businesses," states Jen Consalvo (Co-founder, Co-CEO, Established).
"Our event on May 28th will be our 3rd live event since March and will recognize female-led companies. Women - especially female founders - have been grossly overlooked when it comes to venture capital funding, and anecdotes now suggest that the hurdles are even greater as venture capital groups become more risk-averse. In order to shift this trend during the pandemic's heightened climate of caution, and until there is absolute parity, it becomes [our] Startup of the Year's responsibility to provide a platform of growth and increased exposure for startups."
The five startups that will compete on May 28 are Cherry Blossom Intimates (Washington, D.C.), MITO Material Solutions (Indianapolis, IN), PreventivCare (Bethesda, MD), Pocketnest (Ann Arbor, MI), and ReThink Words (Chicago, IL).
Startup of the Year's second SOTY Live Virtual Pitch Competition is in partnership with .US and will honor U.S. Veteran Founders, falling in line with the .US Veteran Startup of the Year category within the overall 2020 competition. The mini-event will be held on July 23; application deadline is June 25 with additional eligibility criteria. The final two SOTY Live events will take place on September 3 and October 1 (rolling deadlines; startups only need to apply once). An additional virtual event will be held on June 18, when Established presents Startups & Government - Compatible at Last - originally scheduled to take place officially at SXSW 2020. Details on the 8th Annual Startup of the Year Summit will be announced soon.
To register for the May 28 event and vote for the People's Online Choice Award; to learn about Startup of the Year's Virtual Pitch Competitions and deadlines deadlines, the 8th Annual Startup of the Year Summit, please visit: https://soty.link/SOTYLive
About Startup of the Year
Powered by Established, the Startup of the Year program is a global competition, world-wide community, and resource to elevate startup founders. Since 2006, the Established team has discovered and supported promising and innovative startups from around the world via this annual competition, its Investment Community, Daily Dealflow™ newsletter, Startup of the Year Podcast, Activation Events, and more. For more about the Startup of the Year program, visit https://www.startupofyear.com.
About Established
Established is a consultancy focused on helping organizations with their innovation, startup and communication strategies. Created by the talent responsible for building the Tech.Co brand (acquired in 2018), Established leverages decades of experience to help collaborators build their brand, engage audiences and accomplish their goals. For more about Established, visit https://www.established.us.