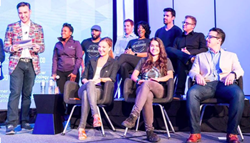 "Having hosted startup events for 10+ years, we have seen an increased need to create experiences that work harder for the attendees, creating opportunities to build relationships that accelerate growth. Start Co. is the perfect partner to make this happen," Jen Consalvo, Co-CEO, Established.
MEMPHIS, Tenn. (PRWEB) June 05, 2019
From October 14th through 16th, Downtown Memphis will play host to the 7th Annual Startup of the Year Competition and Summit.
As part of a new partnership between Established and Start Co., Summit promises to be a conference focused on who's in the room, not who's on stage. Each attendee experience, whether an emerging startup, an established brand/corporation, or an investor, will be maximized through tailored opportunities that will cultivate connections aimed at growing businesses.
For investors and corporations, that means specific matchmaking with startups relevant to their interests. For startups, it means actually being part of the conversation as opposed to being lectured to — not to mention a chance to compete for the honor of Startup of the Year and up to $100,000 in investment funds.
"The new partnership with Established and hosting Summit is the culmination of hard work years in the making. Memphis is arguably ground zero for tech startups trying to solve problems in the supply chain of consumer, agriculture, and distributed goods due to the logistics infrastructure that was cemented when FedEx headquartered here," says Andre Fowlkes, President of Start Co.
"Since then we have seen startup growth in logistics, agtech, medical device, home services, and now a burgeoning infrastructure for supporting smart city emerging technologies."
Over the past few years, thanks to some of the lowest startup costs in the country, Memphis has taken a leadership position in the Southeast to become a true international startup ecosystem destination, with Preteckt, HelloHome, Soundways, and ServiceMaster (Summit lead sponsor) headquartered there. Now, as host of the 2019 Startup of the Year Summit, Bluff City is poised to seize the national spotlight as it embraces the innovation economy.
"To keep our position as a leader in the pest control, cleaning and restoration markets, ServiceMaster has to stay extremely active in the recruitment and adoption of new technologies," said Robert Doty, ServiceMaster CIO. "And companies like ours—that focus on exceptional customer experiences—cannot miss opportunities that bring tech startups, co-investment, and other corporate venture and innovation arms together, to create the exceptional. We are excited to step up and welcome this new crop of entrepreneurs to our home in Memphis."
"Having hosted startup gatherings for over a decade, all over the country, Established has seen the increased need to create experiences that work harder for the attendees, creating opportunities to build relationships with growth and positive outcomes in mind," added Jen Consalvo, Co-CEO of Established. "We're excited to have Memphis as a backdrop for our annual gathering in their bicentennial year, and Start Co. is the perfect partner. Together, we're looking forward to bringing hundreds of innovators and investors to town in October for this special Startup of the Year Summit."
#SOTYSummit19 is not to be missed, so save Oct. 14-16 in your calendar, and head here to sign-up for Summit updates as they develop.