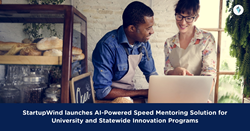 The tools and resources that the StartupWind Platform provide are second to none. As a mentor, I want to be able to spend my time working directly with the participants, not fighting with technology or jumping through administrative tasks.
CUPERTINO, Calif. (PRWEB) October 05, 2021
StartupWind, Inc., the leader in Unified Innovation & Mentoring platform, launched AI-powered Speed Mentoring solution that seamlessly connects small businesses and startups to expert mentors. The mentoring solution is designed to unlock the expertise that the small businesses need to avoid costly business closures.
StartupWind delivers a robust platform to host speed mentoring events, run focused mentoring programs, and support group mentoring capabilities outlined by MIT's VMS (venture mentoring service) methodology to ultimately drive relevance, engagement, and outcomes for the startups and small businesses.
The key capabilities of StartupWind Speed Mentoring are:
● Speed Mentoring Events for rapid engagement and results: The ability to create speed mentoring and networking events to seamlessly facilitate multiple, high-quality meetings for both small businesses and mentors without having to worry about scheduling.
● Theme-based Mentoring with focused program cohorts: This allows the universities and states to create focused mentoring programs based on the stage, industry, and need of the small businesses to increase relevance, engagement, and economic outcomes.
● Group Mentoring & support for MIT's VMS Methodology: This release delivers support for group mentoring capabilities with multiple mentors on an ongoing basis and a mechanism for capturing their feedback and tracking the progress.
● Mentor-Mentee Matching: Advanced mentor and mentee matching that increases the relevance and quality of the matches as well as overall engagement from small businesses.
● Video-based Mentoring: Built-in, video-based mentoring with screen sharing capability to avoid logistical nightmares and eliminate the friction for engagement.
● Simple Scheduling Tools & Calendar Integration: Simple scheduling tools to reduce friction and make meetings easier. Additionally, StartupWind provides integration to the mentor's Google or Outlook calendars to make the experience seamless.
● Dashboards and Reports to measure engagement: The dashboards make it easier for program managers to track the effectiveness of the mentoring program and showcase the progress to their donors, grantees, and leadership.
Key Benefits of StartupWind Speed Mentoring:
● Greater engagement: Focused Mentoring programs designed using program cohorts allow you to create unique mentoring programs based on stages of the businesses (examples: pre-revenue, post-revenue), industry (examples: tech, restaurants, or retail), demographic affinity groups (examples: women, minority, or rural). The increased relevance and focus drives greater engagement and participation from both the mentors and mentees.
● Speedy engagement: The Speed Mentoring events that are designed by the stage, industry, or demographics of the mentees increase the relevance, ensure guaranteed rapid-fire meetings in a short period (Example: 2 hour speed mentoring events), and drive significantly greater engagement than traditional tools.
● Access to a larger mentor pool: University and statewide mentoring programs can engage their alumni and affiliates who are spread across not just the state but across the globe to increase their mentor pool dramatically to help the startups and small businesses efficiently.
● Reduced friction: The seamless scheduling tools, calendar integration, and built-in video calls reduce the friction so that the mentor-mentees can then just focus on the meetings and the business outcomes.
Caroline Crowder, Director MentorSC & USC Columbia Technology Incubator, South Carolina
"StartupWind has the ability to serve multiple functions required by the MIT VMS (Venture Mentoring) program including engaging entrepreneurs with mentors seamlessly, managing the workflow of meeting scheduling, and facilitating group mentoring through built-in video calling, post-meeting ratings & surveys to measure the effectiveness of the program and engagement of participants."
Esha Chopra, Director of Strategy & Marketing at Toronto Business Development Centre, Canada
"My favorite feature of the StartupWind platform is the mentoring solution that reduces a lot of operations for larger mentoring sessions and helps seamlessly connect mentors to startups and conduct evaluations all using one platform."
Nicole Spracale, Executive Coach & Mentor, COO of Validide , Arizona
"The tools and resources that the StartupWind Platform provide are second to none. As a mentor, I want to be able to spend my time working directly with the participants, not fighting with technology or jumping through administrative tasks. Thanks to seamless integration between my calendar and the system, everything shows up in one place and built-in video calling means we can quickly join into a conversation without worrying about the compatibility of technology. I've met with teams across the country and across the globe with ease!"
Jo Lynn Clemens, Founder RiskKarma, Arizona
"StartupWind is truly an ideal one-stop resource for any entrepreneur seeking to build a successful venture. With world-class resources from prominent and successful serial entrepreneurs and coaches, I was able to easily access mentors, articles, and training videos that provided clarity and valuable insights at every stage of the journey. There was no need to leave the platform to schedule an appointment with a mentor in the required area of expertise as the platform included scheduling, calling, and video options with a network of qualified mentors. We consider ourselves fortunate to have been onboarded."
Naren Patil, the Founder & CEO of StartupWind said,
"The experiential knowhow of running and growing a business successfully is locked inside the brains of people who have been there. Unlocking that knowledge and making it seamlessly available for the startups and small businesses is critical to their success or failure. We are excited to launch StartupWind Speed Mentoring to eliminate the friction for the startups and small businesses, enable them to rapidly engage with industry experts and get the help they need to successfully grow their ventures."
About StartupWind, Inc
Headquartered in Cupertino, California, StartupWind is the AI-powered Innovation & Mentoring platform that is designed for 30 million small businesses in the US. StartupWind unveils a new way to connect, incubate, mentor, and scale startups and SMBs (Small Businesses). StartupWind works with University, State, and SBDC programs to help them build a powerful digital innovation engine for their regions and enables them to assist a large number of startups and small businesses to run their businesses profitably and avoid costly business closures.
StartupWind has been delivering impact to about 25,000 innovators & mentors affiliated to over 100 universities in the world who have created over 5,000 ideas, 4,000 Business Model Canvases, and thousands of business plans using StartupWind's tools, frameworks & courses and has access to a large number of mentors on the platform.
Please visit http://www.startupwind.com for more information.