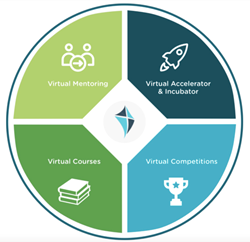 "The Arizona Commerce Authority has been using StartupWind Innovation Platform for our flagship Arizona Innovation Challenge and we are impressed with the versatility of the platform and the excellent support StartupWind provides." -- Andrew Lombard, EVP Arizona Commerce Authority
CUPERTINO, Calif. (PRWEB) December 08, 2020
StartupWind unveils next-generation Virtual Innovation platform to support statewide economic development programs to support tech startups and SMB (Small and Midsize Businesses) entrepreneurs. Startups and SMB's fail at an alarming rate due to the lack of know-how in market research, business planning, financials, and business models. The pandemic has made the situation devastatingly worse.
StartupWind has been working closely with several states within the USA to deliver a focused solution that delivers capabilities such as:

Virtual Business Accelerators to get tech startups and SMB entrepreneurs ready for growth and scaling.
Statewide Mentoring Programs to connect entrepreneurs with expert mentors from anywhere within the state and unlock the experiential know-how.
Video-based Entrepreneurship Courses that cover a wide range of topics such as market research, business planning, financials, business models, intellectual property, marketing, growth hacking, and fundraising.
Innovation Challenges to foster innovation across the state by offering grants for innovative ventures.
SMB Academy for helping SMB entrepreneurs who struggle with market research, product-market-fit, financial, and business model skills.
COVID-19 Support Programs to help companies pivot and reinvigorate while adapting to the changed business environment.
StartupWind brings the tools, video-based entrepreneurship courses, and best practices learned by working with over 50 university innovation programs in the world to power up statewide initiatives.
The key capabilities of StartupWind Virtual Innovation platform are:

Virtual Business Accelerator: Ability to develop ideas using guided frameworks and tools for ideation, customer discovery, prototyping, and business model canvas to help ventures predictably transform ideas into business plans within 6 to 8 weeks.
Virtual Mentoring: Ability to find the right mentors, book meetings and use one-click video calls to interact with the mentors and get their feedback on your business.
Virtual Competition: Ability to submit ideas, assign judges, score, and shortlist ventures to award grants or to fast track the promising ventures via accelerator programs.
Virtual Incubator: Ability to develop ideas using guided frameworks and tools for ideation, customer discovery, prototyping, and business model canvas to help ventures progress at their own pace with step-by-step guidelines and workflow.
Online Entrepreneurship Courses: Over 30 video-based entrepreneurship courses developed by leading Silicon Valley Venture Capitalists, top innovation professors, and successful entrepreneurs.
Andrew Lombard, EVP-Innovation & Venture Development, Arizona Commerce Authority said, "The Arizona Commerce Authority has been using StartupWind Innovation Platform for our flagship Arizona Innovation Challenge and we are impressed with the versatility of the platform and the excellent support StartupWind provides.
StartupWind provides a single unified solution with the tools, frameworks, and courses for every stage of the entrepreneur's journey, such as ideation, business model canvas, business planning, mentoring, and fundraising. The versatility of the platform helps to unlock the business "know-how" and expert coaching critical for startups to be successful.
As Arizona's premier economic development agency, we understand the importance of supporting all entrepreneurs - tech startups and SMBs.We see significant overlap in the needs of early-stage startups and SMBs and we look forward to utilizing the StartupWind Innovation Management Platform to enable the development and growth of Arizona's startup and small business communities!"
Megan Marszalek, Senior Program Manager at the Innovation Institute, Massachusetts Technology Collaborative said, "The StartupWind Virtual Innovation Platform allowed us to run the COVID-19 Intrapreneur Challenge, an effort to activate and support Massachusetts companies as they pivoted their production capabilities to meet the demands of the COVID-19 pandemic. The StartupWind platform and their staff helped streamline our application, screening, and judging processes. Our finalists were spread across the state and were able to use StartupWind to work remotely, develop their ideas into solid business plans, and accelerate their production of critical items."
Naren Patil, the Founder & CEO of StartupWind said, "Our mission is to reduce friction for tech startup and SMB entrepreneurs in the US and around the world by enabling them with the entrepreneurship knowhow, tools, frameworks and connection to mentors at their fingertips. We are excited about working with statewide economic development programs to help a large number of tech startup and SMB entrepreneurs."
About StartupWind, Inc
Headquartered in Cupertino, California, StartupWind is the Virtual Innovation Platform that unveils a new way to connect, ideate, mentor, and scale startups. StartupWind has been delivering an impact to about 25,000 users affiliated to 100+ universities across 100 countries in the world. It is helping universities, states, and corporations to scale their innovation and entrepreneurship programs virtually by delivering a digital Innovation Network and Virtual Innovation Platform that offers tools for ideation, customer discovery, business model canvas, business planning, competitions, mentoring, and learning management system.
For more information visit https://www.startupwind.com/