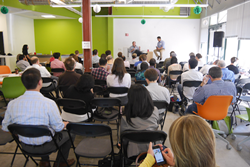 All startups go through near death experiences at least once a year.
Palo Alto, CA (PRWEB) May 02, 2014
StartX Med, the division of StartX dedicated to medical and biotechnology entrepreneurs, launched its first ever StartX Med Day on Thursday. The one day event drew close to 150 medical and biotechnology influencers and 45 startups from the San Francisco Bay Area to share business, research, and investment insights. Held at the new StartX headquarters next to Stanford University, the gathering was the first of its kind for the nonprofit med/biotech accelerator program, which launched in May 2012 and normally only supports StartX Med entrepreneurs.
"StartX Med Day is an intense injection of practical knowledge sharing about medical and biotech entrepreneurship. We are happy to reach a point where we can now begin to share our educational resources with the community," said Andrew Lee, co-founder of StartX Med.
Lee, who is also co-founder of StartX Med biotech company Stem Cell Theranostics, offered updates about StartX Med, which he helped found as a community-based, six-month program for Stanford-affiliated entrepreneurs:

33 med and biotech companies supported
$113 M aggregate funding raised
20 hospitals piloting StartX Med technologies
Dozens of speakers, mentors, and panelists collectively offered a "pulse check" on their respective industries and roles. The conversations included large group addresses as well as 1:1 scheduled sessions with seasoned industry professionals and startup founders.
Throughout the day, the energy on stage and in the standing-room only crowd was optimistic. Dr. Paul Yock, the founder and director of the Stanford Biodesign program, delivered the morning keynote and charged up the audience.
"The opportunities for emerging innovators are the best I've seen in my career, but it is going to take a really major shift. Just as there are legacy companies with entrenched attitudes, the same for entrepreneurs," he said.
Veteran investor Brook Byers of VC firm Kleiner, Perkins, Caufield, and Byers won the hearts of his audience by asserting, "If you can build a medical company, you can do anything. It makes digital look easy."
Dr. Atul Butte, founder of two StartX Med companies and distinguished educator at the Stanford School of Medicine, delivered a rallying talk.
"With growing resources and improvements in science and technology, we will start the next great gene technology in someone's garage," said Butte.
Investor Skip Fleshman of Asset Management Ventures told his audience that biotech exits have been "white hot" in the past year and a half. He predicted the industry will see an increase in biotech firms jumping back into the market.
That's promising news for local students who took a break from studying to learn about opportunities and challenges in health and life science startups.
"The variety of speakers was very helpful. It was good to hear from the VC side, the hospital innovation side, the entrepreneurs, and etc.," said Rachel Irzal, a 3rd year student at the Stanford School of Medicine.
"Proximity is the key. Having a face to face conversation and being able to talk to people directly was invaluable," said Neal Yuan, a 4th year student at UCSF Medical School.
StartX Med Day is part of OpenX, a two-month series of educational events and entrepreneurial resources available to the nearby Stanford and StartX community in Spring 2014. OpenX is sponsored by Wilmer Hale, a distinguished law firm based in Palo Alto, CA.
About StartX
StartX is a 501(c)(3) Stanford-affiliated nonprofit in Silicon Valley that runs one of the world's top startup accelerator programs. Our mission is to advance the development of the best entrepreneurs through experiential education and collective intelligence. Since launching in 2010, we have supported more than 160 companies and 370 entrepreneurs across a wide spectrum of industries. StartX provides founders with access to a powerful network of entrepreneurs, investors, mentors, and industry partners, along with office space and a variety of other resources. We are supported by Stanford University, Stanford Hospital & Clinics, Kauffman Foundation, Microsoft, Intuit, Blackstone Charitable Foundation, Greylock Partners, Draper Fisher Jurvetson, Sequoia Capital, Merck, Genentech, Johnson & Johnson, and many others. For more information, visit startx.stanford.edu.