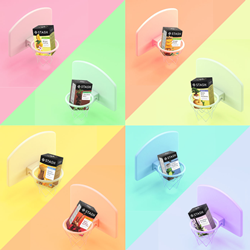 TIGARD, Ore. (PRWEB) March 16, 2021
The Stash Tea Champion-sip is on! It's a head-to-head competition of the #StashGreatEight featuring eight of Stash's top tea flavors! Join the Stash selection committee and March over to Stash Tea's Instagram Stories and vote daily from March 18-March 25. At the end of this Sipping Madness, we will know which tea is the ultimate 2021 Stash Great Eight champ. Do we smell a bracket buster?
There's no one and done when it comes to Stash's flavors. All of our flavors are on a hot streak and we are looking for some creative bracketology on your part as the competition unfolds.
Vote for Your Favorite:
Vote daily on Stash Tea's Instagram Stories from March 18-March 25.
To participate, click here and download the bracket to your phone, then fill in your favorites to see if you chose the final champion correctly! Be sure to use the hashtag #StashGreatEight and tag us @stashtea on Instagram so we can share your bracket.
On March 25, we'll be hosting the #StashGreatEight Giveaway on http://www.instagram.com/stashtea. No purchase is necessary! Two winners will be chosen and each will receive a limited-edition Stash swag: a black matte tea-infuser tumbler! And of course, eight boxes of your teas of choice!
Get the bracket at: https://cdn.shopify.com/s/files/1/0898/3392/files/Artboard_1-80.jpg?v=1614390005
Introducing the Great Eight
Which player will be cutting down the tea bags once they are seeded in your bracket vs the voting and are named the Stash Great Eight Champ? Introducing the #StashGreatEight: Double Bergamot Earl Grey, Breakfast in Paris, Spice Dragon Red Chai, Golden Turmeric Chai, Asian Pear Harmony, Ginger Peach, Meyer Lemon, and Chocolate Mint.
Research and Bracket
Not familiar with our Great Eight? No problem! Get The Great Eight Bundle. Purchase the #StashGreatEight bundle to get each tea and a new glass mug to hold your tea taste-off in as you sip your way to the winner of #StashGreatEight. But hurry, voting starts March 18 on our Instagram, and we only have a select number of bundles available at our special price of $29.95 (regular price $36.95). Shop Now
Already have a few of these teas in your cupboard but want to join the Champion-sip? Get 15% off any of the selected teas when you use code GREAT8 at checkout.
Let the Games Begin! Please welcome the Great Eight competitors to the court:
March 18: Black Tea Taste-Off
Double Bergamot Earl Grey
It's all in the name; with twice as much premium bergamot oil as our Earl Grey, this citrusy black tea is ready to rumbleeee!
VS.
Breakfast in Paris
This secret blend of black teas is taken up a notch with citrusy bergamot oil, lavender, and vanilla extract for a twist on the ordinary that might just go all the way to the final taste-off.
March 19: Herbal Chai Taste-Off
Spice Dragon Red Chai
Get your senses ready. This surprising combination of slightly sweet rooibos and bold cinnamon, ginger root, and clove is a blend worth brewing.
VS.
Golden Turmeric Chai
A newcomer to the roster, Golden Turmeric Chai sounds like a winner by name alone! You can't beat the delightfully earthy taste, with turmeric adding a unique flavor to the blend of cinnamon, ginger root, orange peel, cardamom, and clove. Will Golden Turmeric Chai go for the gold?
March 20: Wild Card Taste-Off
Meyer Lemon
Meyer lemons may be sweeter than regular lemons, but this herbal blend still packs a puckering punch! Based on the refreshing aroma and beautiful brewed-up orange-yellow color… whoa, Nelly! This one may just make it to the finals.
VS.
Chocolate Mint
While this may be an underdog blend among the competitors, dessert teas have been having a winning streak of their own. The Pacific Northwest peppermint and natural chocolate flavor combine with oolong tea for an easy and delicious sipping experience. It might be, it could be, do we have a winner here?
March 21: Fruity Green Tea Taste-Off
Asian Pear Harmony
Don't let the name fool you. Sure, this tea is all about harmony the other 11 months of the year. But when it comes to a competition like this, it isn't here to make friends. This fragrant Japanese-style green tea is shooting for pear-fection.
VS.
Ginger Peach
This blend has a spicy and a sweet side; it smells and tastes like taking a bite out of a juicy, ripe peach, and finishes with a lingering zesty bite of ginger with a zip of matcha. It's game, set, Ginger Peach matcha!
The Small Print: To redeem the discount, add any of the eight teas to your cart and use the code GREAT8 at checkout. The discount will only be applied to the eight tea flavors.15% off applies to the following teas: Double Bergamot Earl Grey, Breakfast in Paris, Spice Dragon Red Chai, Golden Turmeric Chai, Asian Pear Harmony, Ginger Peach, Meyer Lemon, and Chocolate Mint. Other tea-ware or teas are not applicable and won't count towards your discount. While supplies last or until March 31 on Stashtea.com only. Cannot combine with other offers. Giveaway Details: No purchase necessary. Ends 3/30/21 at noon PST. Open only to 50 US; 18+. This giveaway is in no way affiliated with Instagram. Void where prohibited.
ABOUT STASH TEA:
Whoever said that tea is quiet, predictable, and tame, has not tried Stash Tea...yet. The company was created in Portland, Oregon in 1972 with the mission of seeking the taste of a "tea euphoria." At Stash, we love combining flavors in ways no one has before. Even "normal" flavors have some kind of weird or wonderful twist. But we don't stop there. We love to innovate, explore and experience tea to its fullest. In the past, tea was a tool for rebellion and sparked wars. Now it's become a source of quiet and comfort. But not to us. To us, tea is an opportunity both to excite the senses and to surprise your taste buds.
Stash Tea's mission has been to brew the boredom out of the world, with best-in-class ingredients and diverse flavors that delight the senses, surprise your taste buds, and brew up brighter and true-to-name. We are bringing back tea as a cultural catalyst. Because our diversity and boldness should not only be in our cup, but in our minds, our community, and our society. We want to empower and nurture a better tomorrow, where everyone has an equal opportunity to succeed. To become the rebels and rulers of their own lives. Are we crazy? A little bit. But that's how all the best things start. STASH. A little bag of crazy
In 2017, Stash Tea became a Certified B Corp, reaffirming our values and commitment to conduct business as a force for good. In fact, every element that steeps in your cup of Stash Tea, including the teabag and string, is Non-GMO Project Verified and compostable. Please visit https://www.stashtea.com to purchase and/or for more information.