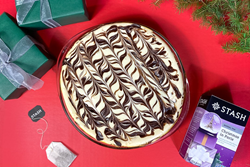 The Limited Edition Holiday Teas and Fall Flavor tea collections from STASH Tea are two traditions that can't be canceled or postponed. STASH's Limited Edition Holiday Teas and Limited Edition Fall Teas brew bold, fun and festive cheer in a cup.
TIGARD, Ore. (PRWEB) December 26, 2020
The Limited Edition Holiday Teas and Fall Flavor tea collections from STASH Tea are two traditions that can't be canceled or postponed. The weather might get colder, but our teas keep getting hotter! STASH's Limited Edition Holiday Teas and Limited Edition Fall Teas brew bold, fun and festive cheer in a cup, that will have you savoring holiday moments, even if they're not quite happening as we expected.
Just in time for the holiday season, STASH offers five enchanting and decadent Limited Edition Holiday flavors – White Christmas, Christmas in Paris, Christmas Morning, Holiday Chai & Christmas Eve. STASH is also once again offering its collection of four delightful and inviting limited edition Fall flavors -- Cinnamon Vanilla, Cranberry Pomegranate, Decaf Pumpkin Spice, and Maple Apple Cider. And, in addition to over 250 tea varieties, STASH also has a Stash of belated holiday and New Year's gifts for every tea lover on your list.
Our Christmas in Paris tea blend is one of the most delectable dessert teas in existence. We have a Christmas in Paris Chocolate Swirl Cheesecake recipe (see below) that will have you and your guests saying this exceptional blend is très magnifique. Chocolate, vanilla, and Pacific Northwest peppermint combine with the light floral notes of lavender to create this lavish chocolate mint tea. Christmas in Paris will no doubt become one of your new holiday tea favorites. You can enjoy it as a "hot chocolate" tea as well just by adding a splash of milk (or your favorite non-dairy substitute) and sugar (or the sweetener of your choice) to create the ultimate substitution for calorie-dense hot cocoa.
White Christmas is a holly, jolly blend of white tea, festive ginger root, and Pacific Northwest peppermint. The flavors come together to create a minty, warming combination that brings back memories of walking through a winter wonderland. No matter the weather outside, White Christmas tea can bring you tides of good cheer.
Remember the excitement on Christmas morning when you were a kid? Christmas Morning captures all that special holiday cheer with flavors that grow in intensity with every sip. When you brew it, the full-bodied aroma of brisk black tea with a hint of floral jasmine are the first clues that a special day is on its way.
Christmas Eve tea will have you singing "All I Want for Christmas Is You" to your teacup. Flavors of orange, spearmint, cinnamon, clove, and vanilla come together like a Christmas carol (if you're into that sort of thing). But this tea isn't restricted to only Christmas Eve. While sharing a cup of this sweet and spicy tea with loved ones the night before the big day does make for a delicious tradition, sipping this blend any of the other 364 evenings can bring about some of that same Christmas cheer.
Holiday Chai combines some of the finest types of teas in the world, including a robust Assam and aromatic Darjeeling, to make this special black chai tea. Stash blended these teas with traditional chai spices like cinnamon, ginger, allspice, and clove… but then cranked up the holiday cheer to the next level by added natural flavors of gingerbread, nutmeg, and rum to give this chai a unique, jolly twist.
The most traditional way to drink chai is to brew it up very strong, then add sugar and milk. But when you have a holiday chai tea, you may want to make holiday spirits even brighter by sprinkling some spiced chai tea into everything you do.
In addition to the tea's, STASH encourages you to start some new traditions making tea-infused recipes a part of all your holiday and winter gatherings with family and friends – both virtual and in-person. STASH's unique holiday, fall and winter recipes are quick and easy, and our teas' rich flavors help you to kick the taste up to another level in order to engage all your senses and surprise your taste buds – some tas-tea recipes are included below, more recipes can be found on STASH's website.
Snickerdoodle Mug Cake using Cinnamon Vanilla Tea
Prep time: 2 minutes
Cook time: 1 minute
Yield: One mug cake
Ingredients:

Directions:
1. Brew two tea bags in 4 oz hot water for 4 minutes. Then discard tea bags.
2. Mix together all dry ingredients in a separate 6 oz microwavable mug.
3. Add 2 tbsp Stash Cinnamon Vanilla herbal tea and oil. Mix thoroughly.
4. Place mug in microwave and set for 1 minute on high.
5. Sprinkle cinnamon-sugar mixture on top.
6. Let cake cool for one minute, and enjoy!
*Make your own self-rising flour:
Combine 1 cup flour, 1 1/2 teaspoons baking powder, and 1/4 teaspoon salt.
Whisk together, mixing well.
The coziest drink award goes to this easy-to-make tea steamer. With the spicy-sweet flavors of cinnamon and vanilla, it's chilly weather comfort in a cup.
Ingredients:
Directions:
Put 2 tea bags of Cinnamon Vanilla or, using an infuser, 2 tablespoons of Sweet Cinnamon loose tea in hot water and steep for 5 minutes.
Add vanilla syrup and stir. Pour in the steamed milk and stir again. Finish with a topping of foam. Sprinkle with ground cinnamon and enjoy! Makes one 12 oz drink
Ingredients:
10 ounces water 1 bag Stash Maple Apple Cider tea
1 cinnamon stick
2 cloves
1-2 tablespoons honey (depending on how sweet you like your toddies)
1.5 ounces cognac (or any smooth brandy will do)
Directions:
Bring water to a rolling boil and pour into a mug over the tea, cinnamon stick and cloves. Steep for 4-5 minutes, then remove the tea bag.
Stir in honey, then stir in cognac. Enjoy! Makes one 12 oz drink
Christmas in Paris Chocolate Swirl Cheesecake
This dessert recipe will rock your holiday socks off. Christmas in Paris tea adds a hint of lavender and peppermint to the chocolate swirl that will earn you colossal applause if you serve it up for a holiday or anytime dessert.
Ingredients:
For Cheesecake Crust:
⅓ cup melted butter
2 cups crushed graham cracker crumbs
¼ cup cocoa powder
For Cheesecake:
1 14-oz can sweetened condensed milk
3 eggs
1 tablespoon vanilla extract
3 8-oz packages cream cheese at room temperature
⅓ cup sugar
For Chocolate Swirl Topper:
Directions:
First, make the cheesecake crust:
1. Preheat oven to 300 degrees. Spray 8" round glass pie dish with non-stick cooking spray.
2. In a bowl, stir to combine all Cheesecake Crust ingredients listed above. Press the resulting mixture into the bottom of the pie dish and up along the sides to form the crust.
3. Pre-bake crust in the pie dish for 10 minutes, then remove from oven.
Second, make the cheesecake filling:
1. In a stand mixer fitted with the whisk attachment, beat the cream cheese until smooth.
2. Add in the condensed milk and vanilla.
3. Add the eggs in one at a time, as the mixer continues to beat the filling.
4. Beat the combined ingredients until creamy, and small peaks form, being careful not to overbeat.
5. Pour half of the filling into the pie dish on top of the crust.
Next, for the Stash Christmas in Paris chocolate topping:
1. Combine 4 tablespoons of Christmas in Paris tea with the ingredients for the chocolate swirl topper in a tall, microwavable bowl.
2. Microwave on high in 10-second intervals. Stir after every interval. Be careful as the bowl might get very hot. Once the mixture is a smooth texture, remove from microwave.
Make the Christmas in Paris chocolate swirls
1. Pour the chocolate topping in ½ inch thick vertical lines along the top of the cheesecake filling, about 1 inch apart.
2. Starting at the bottom, stick a toothpick 1/2 inch deep into the left side of the topping and drag it across to the right. Move the toothpick up 1 inch and repeat the motion, this time dragging from the right to the left. Continue until the whole cheesecake has been swirled.
3. Gently pour the remaining cheesecake filling into the dish and repeat the chocolate swirl steps.
Bake for 1 hour, then turn the oven off and allow it to cool inside the oven for 1 hour (this prevents cracking). Once cooled, refrigerate for at least 3 hours. Top with chocolate shavings and/or whipped cream.
More tea-tastic STASH recipes are included below such as homemade chai spice bread, a chocolatey chai dessert, and a cheerful Christmas-y chai rum cocktail to spread holiday cheer.
Holiday Chai Cranberry Nut Loaf Cake
The spicy flavors of our Holiday Chai tea perfectly complement the fruity cranberries and nuts. Not only is this recipe tasty, it's gluten-free and vegan as well! Gluten-free and vegan Recipe and photography by Ella Leché of Pure Ella.
Makes 6 servings
Ingredients:

2 tablespoons flax meal
3/4 cup double strength tea using Stash Holiday Chai loose leaf, or 2 tea bags of Stash Holiday Chai
1 cup gluten-free flour mix (or light spelt flour)
1/2 cup coconut flour
1/2 teaspoon fine sea salt
1 teaspoons baking powder
1/2 teaspoon baking soda
3/4 cup raw cane sugar or organic brown sugar
1/2 cup coconut oil, melted
1 teaspoon vanilla extract
3/4 cup mixed nuts, chopped (this recipe was made using walnuts and pecans) + extra for topping
1/4 cup dried cranberries (sulphite-free)
Icing (optional; we recommend Pure Ella's recipe)
Directions:
1. Preheat oven to 350 degrees Fahrenheit. Prepare a loaf pan with parchment paper and oil the sides. If using paper pans, just oil the sides well.
2. First, brew a cup of double strength Holiday Chai tea.
(In the meantime, prepare all the ingredients.)
3. In a large bowl, mix the flax meal with the tea and set aside.
4. In another bowl, combine the flours, salt, baking powder and baking soda and mix to combine well.
5. Back in the bowl with the flax and tea mixture, add in sugar, coconut oil and vanilla extract and whisk to combine well and the sugar starts to dissolve a bit.
6. Add the dry ingredients into wet and mix until fully combined.
7. Pour or scoop into the pan(s).
8. Sprinkle extra chopped nuts on top.
9. Bake for 40-45 minutes for 1 large loaf pan. 35-40 minutes for two small loafs. Or until sides brown and a toothpick in center comes out dry.
10. Let cool for about 15 minutes before removing from the pan. (for mini paper-pan cakes, just keep in the paper)
11. Let cool completely on a cooling rack and store in the refrigerator covered with parchment paper.
This cake is really best the next day as the flavors really saturate the cake and the texture improves and it's easy to cut clean slices. Otherwise, it's a bit crumbly when fresh. We really loved it the next day or even on the third day. Keeps well covered in the refrigerator for up to 5 days.
This versatile tea truffle recipe can be made with just about any tea you like. Chai truffles are perfect for entertaining and, makes a rich after-dinner treat.
Recipe makes about 15 truffles
Ingredients:
4 ounce (113 grams) dark chocolate bar
1 tablespoon nonsalted butter
1/4 cup (2 ounce) heavy whipping cream
Directions:
1. Chop up the chocolate, place into a heat-proof bowl and set aside. Combine the cream, butter and tea bags in a small saucepan over medium heat. After bringing the mixture to just boiling, take the saucepan off the heat and let it sit for a couple of minutes.
2. Remove tea bags, then pour the cream over the chocolate and mix together. The chocolate should be completely smooth; if not, heat it up in a microwave for 20 seconds. Cover the bowl and leave it in the refrigerator for several hours, until the chocolate is firm.
3. Once firm, use a spoon, melon baller or your hands to form the chocolate into small balls. The chocolate will begin to melt upon contact, so make sure you have your coating ready. You can coat the truffles with nuts, shaved chocolate, cocoa powder, sprinkles or anything else that comes to mind. Just roll the truffles in the powder.
4. Keep the truffles in the refrigerator on parchment paper or a plate until they're firm, then serve.
Bourbon and spicy chai black tea are a winter combo sure to warm you up! Adapted from Saveur.
Makes 4 servings
Ingredients:
4 teaspoons of Stash Chai Spice loose leaf black tea
1 vanilla bean, split and scraped, keep seeds and pod
3 cups hot water
3 cups whole milk or unsweetened almond milk
1/4 cup honey or agave
1/2 cup spice-forward bourbon, like Maker's Mark
Cloves, cinnamon, nutmeg, ginger (optional)
Directions:
1. Combine the tea leaves and vanilla bean seeds and pod, and any additional spices with 3 cups hot water.
2. Bring to a simmer over medium-high heat and add milk and honey or agave, whisking to combine.
3. Return to a simmer, remove from heat, and allow to steep 10-15 minutes.
4. Strain, pressing down on solids to extract flavors.
5. Transfer the chai to a heat-proof pitcher and stir in bourbon.
Please visit Stash Tea to purchase and/or for more information.
ABOUT STASH TEA:
Whoever said that tea is quiet, predictable, and tame, has not tried Stash Tea...yet. The company was created in Portland, Oregon in 1972 with the mission of seeking the taste of a "tea euphoria." At Stash, we love combining flavors in ways no one has before. Even "normal" flavors have some kind of weird or wonderful twist. But we don't stop there. We love to innovate, explore and experience tea to its fullest. In the past, tea was a tool for rebellion and sparked wars. Now it's become a source of quiet and comfort. But not to us. To us, tea is an opportunity both to excite the senses and to surprise your taste buds.
Stash Tea's mission has been to brew the boredom out of the world, with best-in-class ingredients and diverse flavors that delight the senses, surprise your taste buds, and brew up brighter and true-to-name. We are bringing back tea as a cultural catalyst. Because our diversity and boldness should not only be in our cup, but in our minds, our community, and our society. We want to empower and nurture a better tomorrow, where everyone has an equal opportunity to succeed. To become the rebels and rulers of their own lives. Are we crazy? A little bit. But that's how all the best things start. STASH. A little bag of crazy
In 2017, Stash Tea became a Certified B Corp, reaffirming our values and commitment to conduct business as a force for good. In fact, every element that steeps in your cup of Stash Tea, including the tea bag and string, is Non-GMO Project Verified and compostable. Please visit https://www.stashtea.com to purchase and/or for more information.
Connect with Stash on social:
Facebook
Twitter
Pinterest
YouTube
Instagram