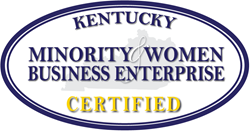 The Kentucky MBE certification will create cohesion and wide-ranging advantages for companies, particularly those that provide services in multiple states allowing them to 'double-down' on supplier diversity credits based on location.
INDIANAPOLIS (PRWEB) October 10, 2019
Fineline Printing Group, a strategic print partner and minority-owned business, is pleased to announce certification as a Kentucky Minority Business Enterprise (MBE). This serves as the 13th state certification for Fineline, offering nationwide value to organizations through diversity spend and tax credit benefits.
A neighboring state to Fineline's headquartered location, the Kentucky market will allow MBE benefits to healthcare, higher education, & manufacturing companies who are pursuing state contract opportunities or who have a Supplier Diversity program. These organizations can fulfill their MBE requirements and create a competitive advantage in RFPs by utilizing Fineline's commercial printing and secured mailing services. Not only will these companies fulfill diversity spend, but they can receive tax credits and gain marketing benefits within a consumer audience that is more socially aware than ever.
The full list of Fineline's MBE certified states is as follows:

Alabama
Delaware
Illinois
Indiana
Kentucky
Massachusetts
Missouri
New York
Oregon
Pennsylvania
Tennessee
Virginia
Wisconsin
"The Kentucky MBE certification will create cohesion and wide-ranging advantages for companies, particularly those that provide services in multiple states allowing them to 'double-down' on supplier diversity credits based on location. Fineline is a 38-year strong custom manufacturer & service provider who understands the government marketplace, how to serve enterprise level clients & can deliver quality products with a focus on security and compliance. The combination of having a minority-owned business, HIPAA compliant production facility, and innovative print technology makes it easy and advantageous to work with Fineline."
About Fineline Printing Group
Fineline Printing Group is a solutions-driven, customer-focused printer. A minority-owned business and one of the largest providers of commercial print, Fineline specializes in managing the entire enterprise print and fulfillment process on behalf of clients. Fineline has a 100% secure facility and is the creator of Finelink – a print marketing and ecommerce platform. To learn more about Fineline Printing Group, please visit: https://finelineprintinggroup.com/