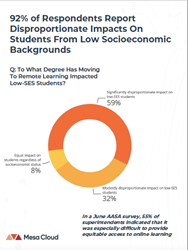 We're facing nothing short of a national emergency. Equally alarming, educators consistently said they expect equity gaps to grow and for disadvantaged students and students of color to fall further behind. John Kennedy, founder and CEO of Mesa Cloud
AUSTIN, Texas (PRWEB) March 11, 2021
Mesa Cloud, a leading student progress platform, today announced the release of their State of Student Progress in 2021 survey results. Aggregating the voices of dozens of administrators, educators, and K-12 leaders, the survey illustrates the response of school districts across the United States to the COVID-19 pandemic. Districts overwhelmingly reported the crisis over the last year has caused immediate damage to the futures of America's children, and that long-lasting, unquantifiable ripple effects will persist for years.
"Over the last year, we have witnessed heroic efforts by educators trying to prevent learning loss and keep students on track. Our survey highlights what went well, what hurt, and what's left to be done. After reviewing all the responses, perhaps our biggest concern is the unprecedented explosion in the equity gap," said John Kennedy, founder and CEO of Mesa Cloud.
Not surprisingly, respondents reported that K-12 at large was not ready to pivot to online learning. The majority of respondents disclosed that they were unprepared to handle instruction, district operations, and student tracking remotely. Districts with a larger percentage of socioeconomic disadvantaged students reported even more challenges transitioning to online education. The investments made in reopening plans for the fall of 2021 allowed a majority of districts to "mostly" stick to their original reopening plans, which benefited some students. For those students struggling before the pandemic, the challenges became insurmountable. High school student attendance suffered dramatically, and students from low-socioeconomic backgrounds again suffered the most. While districts are focused on the immediate academic challenges following a year of remote learning, respondents feared the long-lasting mental and social ramifications on students, staff, and communities.
"We're facing nothing short of a national emergency", continued Kennedy. "Students missed critical instruction, interpersonal interaction and wraparound services that were never planned to be delivered remotely. The long-term cost of these missed opportunities is unimaginable. Equally alarming, educators consistently said they expect equity gaps to grow and for disadvantaged students and students of color to fall further behind. Not only were these communities disproportionately affected by the public health crisis onset by the pandemic, but without intentional aid, they will be further marginalized on top of centuries of discrimination."
To access the full survey and eBook, click here.
About Mesa Cloud
Mesa Cloud is a student progress platform that prevents students from slipping between the cracks due to transcript, schedule and other data errors. By automating student tracking, Mesa Cloud provides a digital safety net for students, delivering districts an always-on alternative to manual efforts to find, flag and fix errors that jeopardize a student's trajectory. By automating what can be automated, Mesa Cloud frees counselors and administrators to spend more time on the precious work that can't be. Founded in 2017 by an educator and a student and serving public school districts nationwide, Mesa Cloud is based in Austin, Texas and Raleigh, North Carolina.