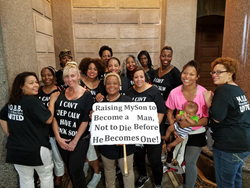 NEW YORK (PRWEB) June 05, 2020
Moms of Black Boys United for Social Change, Inc. (M.O.B.B. United for Social Change), an online community of nearly 200,000 mothers with 15 local chapters nationwide is committed to advocating for fair and just treatment of Black boys and men in American society. We continue to stand in solidarity with the chorus of voices calling for immediate and widespread reform of the broken criminal justice and policing system.
We are pleased to hear that charges have been upgraded to second degree murder for the principal assailant, Derek Chauvin, in the murder of unarmed citizen George Floyd and have now also been filed against the remaining three officers involved for aiding and abetting a murder. We are also grateful that civil rights charges have been filed by the Minnesota Department of Human Rights against the Minneapolis Police Department in relation to the death of George Floyd. Additionally, we support the department's investigation into the Minneapolis Police Department.
We applaud Minnesota Attorney General Keith Ellison for the decisive actions he has taken to further the pursuit of justice for the Floyd family. We must now work to ensure that these charges result in convictions that reassure every citizen that systematic discriminatory practices and reform in the criminal justice system are being addressed.
"We acknowledge that charges have now been filed against all four officers involved in the horrific murder of George Floyd," said M.O.B.B. United for Social Change Founder Depelsha McGruder. "But this isn't the first time we've witnessed a murder in broad daylight on video and expected swift justice -- only to later be sorely disappointed. We are hopeful that this case will bring real punishment and accountability to these officers who showed no regard for Mr. Floyd's life in the form of convictions and stiff sentencing."
CALL TO ACTION
#ProtectThem by demanding immediate action to further our goal of achieving reform in policing and the criminal justice system.
We urge you to join us in continuing to make our voices heard by contacting the following local officials with these further demands:
Demand that Governor Tim Walz, Police Chief Medaria Arradondo and Mayor Jacob Frey continue to work against the culture of racism and police brutality in Minnesota by putting firm policies and practices in place to end it. These include:
1. Prohibiting or banning excessive use of force tactics such as chokeholds and neck restraints in the arrest of unarmed suspects.
2. Any officer involved in an encounter with an unarmed citizen must be accountable to the police use of force rules as set forth in its applicable continuum of escalation. Loss of life resulting in such encounters should result in officer being arrested for excessive use of force within 72 hours of the incident.
3. An independent investigation of officer-involved fatalities should be conducted by the state's Attorney General's office in conjunction with the Civilian Review board.
4. More stringent review, oversight and punishment for officers with multiple complaints; officers terminated for misconduct should be unable to work in any professional law enforcement capacity.
Leadership must take a clear stand in enforcing the rules and guidelines set forth for proper conduct within the police force and provide transparency in reporting of all officer-involved fatalities to put an end to this abuse of power. Click Here to Participate in Call to Action
INTERVIEW OPPORTUNITIES AVAILABLE
The organization's leadership, Founder Depelsha Thomas McGruder and Executive Director Vanessa McCullers, are available for interviews to discuss a variety of topics including:

the worldwide call-to-action for policing and criminal justice reform surrounding the recent murder of George Floyd,
the organization's efforts to help mitigate the negative effect of systemic racism on Black men and
how we can move forward from here to a more equitable future for African American males.
MEDIA CONTACT
To schedule interviews, please contact Tosha Whitten Griggs at: media@mobbunited.org or (202) 246-7875.
Depelsha Thomas McGruder, Founder and President of MOBB UNITED, currently serves as chief operating officer and treasurer of the Ford Foundation where she oversees the global operations and finance for the $13 billion non-profit. Based in Brooklyn, NY, Depelsha spent 17 years at Viacom (MTV and BET Networks) in Strategy & Operations, Business Development and Programming.
She's also a former strategy management consultant and began her career as a local TV journalist. However, the founding of MOBB United came from a personal space. After watching the viral videos of the killings of Alton Sterling, Philando Castile and numerous other Black males before them, Depelsha wanted to vent. But where? How? She invited about 30 of her close friends whom she knew also were worried about the safety of their Black sons to join a private Facebook group. This Facebook group would be a refuge for them to speak about the unique challenges and dangers their children faced, particularly when it came to encounters with law enforcement. Within an hour or two, there were 1,000 members. By the end of the day, more than 21,000 moms from all across the country had joined the group. Two years later, there are more than 170,000+ members and what started as a Facebook group has now evolved into two non-profit organizations that are working together to change policies and perceptions impacting Black boys and men. Depelsha is married and has two sons, ages 10 and 6. Depelsha is a member of Alpha Kappa Alpha Sorority and The Links, Inc. In 2011, she was selected for The Network Journal's "40 Under Forty Achievers Award." Depelsha graduated first in her class with a bachelor's degree in Broadcast Journalism from Howard University and earned an MBA from Harvard Business School.
Vanessa McCullers, Executive Director of Moms of Black Boys United, Inc.
Vanessa McCullers has spent almost 2 decades working at some of the biggest companies in entertainment including MTV, OWN, TMZ and NBC. McCullers currently serves as the Head of Entertainment Strategy, Branded Entertainment Network in Los Angeles, CA. After years of putting the spotlight on advertisers, through alignment of talent and production of award winning content, Vanessa began to look at telling the brands story through the lens of personal experiences. Her goal has been to tell personal stories that inform and can help change the lives of others positively.
However, none of her training and skills prepared her for her own experience, watching her son deal with the after effects of watching the violent killings of Alton Sterling and Philando Castile in the summer of '16. It was at this time she discovered a group of Moms on Facebook with similar concerns who banded together to make change. Vanessa poured her skills and energy into Moms of Black Boys United helping it develop into 2 separate non-profit organizations and grow to a community of over 200,000 Moms across the country and the beyond.
Having worked with every media platform imaginable and having no other creative outlet, Vanessa decided to use skills in her true passions to develop the branding and communications for Moms of Black Boys United, Inc. and MOBB United for Social Change, Inc. As the Chair of Communications, she is responsible for all internal and external content created and developed by MOBB United. From image campaigns and strategic partnerships to member communications, events, fundraising and social media, the MOBB United Communications Committee touches every part of the organization in a meaningful way. As a testament to her dedication and the incredibly growth of the organization, in the summer of 2018 McCullers was named Executive Director of Moms of Black Boys United, Inc.
M.O.B.B. United aims to provide information and support for moms of Black sons while promoting positive images of Black boys and men. Our goal is to influence policy impacting how Black boys and men are treated by law enforcement and society.
TO DONATE TO MOBB UNITED, PLEASE VISIT http://www.MOBBUNITED.ORG
Moms of Black Boys (MOBB) United, Inc. and MOBB United for Social Change, Inc. (MUSC) are sister organizations that are dedicated to positively influencing how Black boys and men are perceived and treated by law enforcement and in society. MOBB United is a nationwide coalition of concerned moms of Black sons who represent every race, age, socioeconomic background, marital status and education level. What we share is unconditional love for our Black sons, and we want others to see them through our proud eyes.