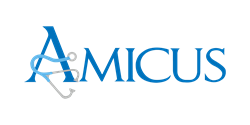 SUNRISE, Fla. (PRWEB) March 17, 2020
Amicus Medical Centers, primary care provider with more than twelve convenient locations in Broward, Palm Beach, and Martin counties, is closely monitoring updates related to COVID-19 from the Centers for Disease Control and Prevention (CDC) and the Florida Department of Health, as a measure to stem the spread of the COVID-19 outbreak.
At Amicus, we believe in the power of strong doctor-patient relationships, demonstrating that our commitment to care always goes beyond the exam room. In addition to this, we always offer high-quality services and an environment where our patients, staff, and community live better.
To help in preventing exposure to the virus, Amicus' Medical Director, Dr. Carey Connolly, advises to take extra measures to stay safe and away from crowded areas. That's why all Amicus' social events will be canceled as a way to address today's concerns. However, all offices will remain open and available to receive patients for checkups as usual.
As personal prevention, always remember that the best way to prevent illnesses is to avoid being exposed to the virus. However, as a reminder, CDC recommends some actions to help prevent the spread of the disease, including:
-Avoid close contact with people who are sick.
-Avoid touching your eyes, nose, and mouth.
-Stay home when you are sick.
-Cover your cough or sneeze with a tissue, then throw the tissue in the trash.
-Clean and disinfect frequently touched objects and surfaces using a regular cleaning spray or wipe.
-Wash your hands often with soap and water for at least 20 seconds, especially after going to the bathroom; before eating; and after blowing your nose, coughing, or sneezing.
-If soap and water are not readily available, use an alcohol-based hand sanitizer with at least 60% alcohol. Always wash hands with soap and water if hands are visibly dirty.
Remember to call our offices if you are experiencing symptoms that might be related to coronavirus or if you think you've been exposed to COVID-19. At Amicus, we are prepared to test you if needed. Also, stay informed and connected to our social media channels for more information and updates.
As a final note, you can also review the "Frequently Asked Questions and Answers" page on CDC.gov for relevant information related to COVID-19, which can be found at https://www.cdc.gov/coronavirus/2019-ncov/faq.html
AMICUS MEDICAL CENTERS