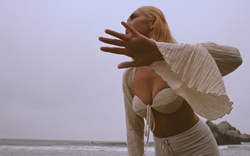 We were noticing friends struggle to make informed purchases and felt very passionate about bridging the gap by curating a selection of items that we love, from brands that are truly making impactful changes in their supply chain
SAN FRANCISCO (PRWEB) October 01, 2020
Status Gaea (statusgaea.com) launches a shoppable content platform promoting a curated selection of fashion and beauty products from better brands that care for our planet. For the launch, the site showcases 1,000 items from 300 sustainable and ethical brands. New items will be added weekly, ranging from small businesses like Vanina, E.L.V. denim, and Bevza, to more established brands like Ganni and Veja. All items are vetted against a set of core values that are uniquely displayed on each listed product and researched in collaboration with sustainable experts. This research combined with the founders' expertise in curating stylish pieces, makes the site a simple and essential tool for the conscious shopper.
"We were noticing friends struggle to make informed purchases and felt very passionate about bridging the gap by curating a selection of items that we love, from brands that are truly making impactful changes in their supply chain," said Toni Lessler Mills. Mandy Rivas continues "Being Latina myself, it's extremely important for me to bring visibility to not only women-owned brands but also BIPOC-owned brands, providing equality and showing my daughters that gender and or the color of their skin does not hinder their future."
Status Gaea aims to re-think the fashion e-commerce model by operating with affiliate and independent partnerships. Each item will link directly to the brands' product page where the customer can complete their transaction with the partner site. This removes the need for Status Gaea to function as a traditional supplier with an operation-heavy business model, ensuring a minimal carbon footprint. This model ensures international customers are also able to utilize the platform as a discovery tool as all currency conversions are handled directly through the affiliate sites. Affiliate sites include retailers such as Net-a-Porter, Farfetch, Selfridges and Garmentory. Through the site's shoppable content, a customer can choose to shop by filtering by product category, brand, or price. From Asata Maisé's hand-crochet pieces made from reclaimed materials to The Pangaia's grape leather sneakers, there is a special piece to be discovered for everyone. Customers can also discover the sustainable and ethical components of each item by referring to icons accompanying each product listing depicting core values adopted in production and operations, including organic, low waste, and BIPOC-owned.
The name Status Gaea stems from the founders' belief that the only status that matters is protecting Gaea, Mother Earth in Greek mythology. As experts in their field and passionate about helping their industry change in order to conserve the planet and put people before profit, Mandy and Toni birthed Status Gaea. Jointly they pull together 20 years of industry experience from brands including Burberry, The Gap, Swarovski, and The RealReal. Mandy Rivas provides 10 years of merchandising experience with her most recent role as Men's Merchandise Manager at The RealReal where she successfully grew the men's product assortment, contributing to the company going public in 2019. Toni Lessler Mills brings 10 years of experience in communications and content production at some of the largest luxury brands. Her work includes the launch of Burberry's Heritage Trench Coat Collection, Burberry runways shows, Swarovski x The Fashion Awards, Alexander Mcqueen's Savage Beauty, and The RealReal's editorials across site and store.
Status Gaea is an online platform showcasing women's fashion and beauty products from brands that are sustainable and ethical. The site features over 1,000 hand-curated products from 300 vetted brands. Founded in 2020 by Toni Lessler Mills and Mandy Rivas and headquartered in San Francisco, California. Status Gaea is women-owned and BIPOC-owned.