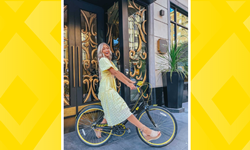 "We are thrilled to welcome guests to Staypineapple as they explore our extraordinary destinations with attractions, museums, restaurants & more re-opening. Venturing out exploring on our beach cruisers is even more fun," says Sharon Andrade, VP of Sales for Staypineapple.
BELLEVUE, Wash. (PRWEB) June 14, 2021
With a much more fun summer on the horizon, Staypineapple is celebrating a return to travel by launching our Summer Dreaming Contest. This social media contest aims to get travelers excited about hitting the road again and gives participants the chance to win a prize that facilitates more summer fun.
Through this Instagram contest, Staypineapple is challenging our friends and followers to share some of their best travel memories from visits to Staypineapple's list of exciting destinations to inspire future adventures. Staypineapple is welcoming those who have stayed with us before and new friends alike to join in the fun!
Staypineapple will gift the winner of our Summer Dreaming Contest whose social post most captures the excitement of summer adventures one of our iconic black and yellow beach cruiser bicycles, perfect for exploring in style.
The challenge is on, all you have to do is show us how you Pineapple. To participate in Staypineapple's Summer Dreaming Contest please:
Share a photo of you on Instagram in any of our seven cities, including New York, Chicago, San Francisco, Boston, Seattle, Portland, and San Diego.
Caption it with your favorite vacation memory and what you're looking forward to doing on your next trip this summer
Tag @staypineapple and use #StaypineappleSummerDreaming to be entered to win one of our beach cruiser bicycles
Visit the Staypineapple blog, Tidbits, for contest terms and conditions.
To further sweeten the summer travel deal, Staypineapple is also offering a special one-day sale in honor of National Pineapple Day.
On June 27 the first 500 guests who make a reservation for a stay through December 30, 2021, can use the code "PineappleDay21" for $50 off. The sale extends to the brand's beloved retail site as well, shop.Staypineapple.com, where the coupon code "PineappleDay21" can be used for $10 off a purchase of $25 or more.
About Staypineapple
Staypineapple is a brand of upscale, out of the ordinary boutique hotels in urban markets nationwide, owned and managed by Pineapple Hospitality, based in Bellevue, WA. Focused on thoughtful service and design, with an uncanny knack for anticipating needs, the dog-friendly hotels wholeheartedly embrace the pineapple's symbol of hospitality and joy. For more information, visit http://www.staypineapple.com