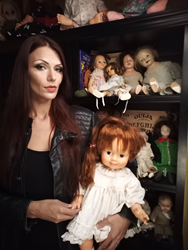 Everything you see here is real. If I can ever debunk activity, I will.
LAS VEGAS (PRWEB) October 28, 2020
Social media influencer Staysha Randall, 32, has become a viral sensation for her videos and live streams featuring her collection of oddities and haunted items. Since joining TikTok in June, Randall's videos have garnered over 33 million views on the popular video service.
Randall and her husband Ron keep over 100 dolls and other fear-inducing items in a dedicated room at their Las Vegas residence. Randall live streams her paranormal investigations several times weekly, sharing her eerie collection with curious viewers.
Randall has a growing fan base of paranormal enthusiasts fascinated by the goings-on in her haunted doll room. Her live streams are well-attended, reaching upwards of 30,000 viewers per night. Randall uses paranormal equipment such as spirit boxes, flashlights and motion sensors to communicate with the spirits attached to her dolls and haunted objects.
"Our haunted mirror was given to us by a friend that had four family members die in front of it within the past 40 years," explains Randall. The mirror is a regular feature on live ghost hunts due to the unusual activity that occurs around it.
Several of her dolls have their own fan pages, including Katie, a doll believed to have a demonic entity attached to it. "We call her our spoiled demon," Randall says. "She asks for gifts, and I do my best to provide them. But I draw the line when she asks for blood."
For most of her life, Randall has been drawn to the dark and macabre. Her interest in paranormal investigation started as a teenager. She has worked as a tour guide at haunted locations and as a scare actor in extreme haunted houses.
Randall is not letting COVID-19 get in the way of celebrating her favorite holiday. "Halloween is my favorite day of the year," says Randall. This October 31, Randall is celebrating with a special live ghost hunt and costume party.
Randall welcomes skeptics and those who don't believe in ghosts. "Everything you see here is real. If I can ever debunk activity, I will."
"People often ask if they can be affected by watching my live streams. Viewers have reported experiencing physical effects such as headaches, nosebleeds, vertigo, and even passing out during my investigations. I don't know if it is psychosomatic or paranormal, but I always caution viewers to take a break if they are feeling ill."
You can find Randall's live ghost hunts streaming on TikTok at username @stayshasweird.