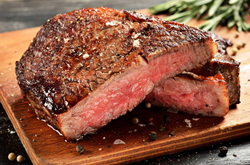 We're pleased to give Omaha Steaks our five-star rating.
OVERLAND PARK, Kan. (PRWEB) December 30, 2020
TopConsumerReviews.com once again gave its 5-star rating to Omaha Steaks, a favorite among Steak companies offering online sales.
Many Americans have become fans of grocery delivery recently, but they hesitate to use a shopper to select their meats: will they choose the freshest cuts? Will the store have high-quality meats in stock? Those concerns lead many savvy consumers to choose a reputable online steak company to get the best beef. These businesses have often specialized in mail-order meats for decades, enjoying a long history of providing top cuts with legendary flavor. Some online steak companies even let customers choose the farm from which their meats will be sourced! There's no need to take a chance on hit-or-miss availability at local supermarkets when the world's best steak is so easily and affordably bought online.
"Omaha Steaks has delivered premium-quality cuts direct from the Midwest for over 100 years,"confirmed Brian Dolezal of TopConsumerReviews.com, LLC. "Every steak is flash-frozen and individually vacuum-wrapped, keeping the meat at peak quality — whether you buy a filet mignon, strip steak, top sirloin or Porterhouse. We appreciate that Omaha Steaks gives shoppers the option to specify the size of steak they prefer: while some meat-lovers may want to sink their teeth into a 10-ounce cut, those with more petite appetites can choose a smaller portion. This steak company makes gift-giving easy as well, with options for elegant packaging and a personalized greeting card. Plus, Omaha Steaks has many other types of meat besides beef — like chicken, duck, turkey, pork and lamb — as well as tasty add-ons like appetizers, glazes and sauces. And, as always, Omaha Steaks stands behind their products with an unconditional satisfaction guarantee. In 2020, this steak company earns another first-place finish ahead of the competition. We're pleased to give Omaha Steaks our five-star rating."
To find out more about Omaha Steaks and other Steak companies, including reviews and comparison rankings, please visit the Steak category of TopConsumerReviews.com at https://www.topconsumerreviews.com/best-steak-companies/.
About Omaha Steaks
Omaha Steaks manufactures, markets and distributes a wide variety of premium steaks, red meats and other gourmet foods. These products are custom cut and packaged to serve the needs of various markets. America's Original Butcher, Omaha Steaks has been providing premium, all-American grain-fed beef and gourmet foods for 100 years, through retail stores, mail orders, online, and direct to a number of foodservice vendors.
About TopConsumerReviews.com
TopConsumerReviews.com, LLC is a leading provider of reviews and rankings for thousands of consumer products and services. From Steak Companies to Wine Clubs and Flower Delivery, TopConsumerReviews.com delivers in-depth product evaluations in order to make purchasing decisions easier.