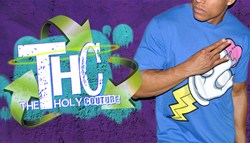 Los Angeles, CA (PRWEB) July 19, 2013
StealDeal.com is adding a new brand to its website for customers to buy. This brand is the popular The Holy Couture urban fashion line. The company has partnered with LAD Solutions in order to build customer awareness and to attract wholesale orders of the products.
The items that Steal Deal is offering on their website from The Holy Couture include a variety of urban tees which can be found by viewing the inventory section on their website. They are offering a variety of t shirts that feature the characteristic The Holy Couture designs and all of the items are designed for casual wear.
As of today, the items are already available for sale on the StealDeal.com website and the company has announced that its wholesale customers are already placing orders for the items and that their stock of the items is starting to decrease. Therefore they have suggested that if wholesale customers want the best items that the company has to offer that they act fast before supplies of the The Holy Couture clothing become limited.
Steal Deal has made a mark in the urban fashion industry by offering a variety of urban fashion brands at wholesale prices. The stock on the website is continuous changing sometimes featuring brands such as Girbaud, Lavie, M.Society and more. The company has moved to become a major player in the wholesale operations of urban fashion brands. The company focuses its marketing around attracting wholesale buyers looking to purchase items for retail outlets and boutique stores.
The company does not cater to individual customers and to keep individual customers from placing orders on their site, they set their minimum order at 6 units per item to ensure that only customers interested in purchasing wholesale quantities of merchandise are placing orders. For customers that are interested in acquiring items from the The Holy Couture, Steal Deal has requested that customers contact them via their website or call the company directly in order to place an order.
About Steal Deal Inc.: Since 2002, Steal Deal has been offering wholesale urban fashion items. The company was original founded by two entrepreneurs when they formed StealDeal.com as the online outlet for their wholesale clothing operations. The company is known worldwide as a supplier of urban wear and continues to provide clothing from a variety of popular urban brands at discounted prices via their website and via trade shows. To learn more about Steal Deal, visit StealDeal.com.