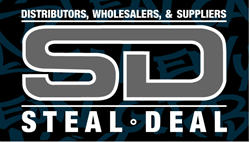 Los Angeles, CA (PRWEB) August 21, 2013
Steal Deal has just announced that they will be making their wares available for purchase in the Off Price Specialist Show from August 17-20, 2013 and have representatives attend Magic Market Week August 19-21, 2013. The company will attend the trade shows in Las Vegas in order to promote the latest trends in men's urban and streetwear clothing for the upcoming fall season and to also obtain more orders from retailers. The company has hired LAD Solutions to promote the notification about the upcoming trade show.
The Offprice Show is a major trade show in the retail industry and serves to connect apparel buyers with the leading wholesale distributors. The show is a main feature of the Las Vegas Fashion week which occurs two times per year in February and again in August. Aside from Steal Deal, over 500 exhibitors will attend the show along with approximately 1,200 retail industry professionals.
Steal Deal is continuously involved in promoting their items at trade shows and will be appearing at additional trade shows throughout the year. The company just recently attended the MEGA Show in Atlanta at the Cobb Galleria Center. The company specializes in urban clothing and has previously shown clothing from such lines as Zoo York, Finally Famous, and Tapout at previous trade shows.
Steal Deal will be showing at the trade show daily during their days of attendance from 8 am – 6 pm PST. The company's booth number is 2423 and they are encouraging buyers to show up early if they would like to have access to place orders for various items before supplies run out. The company only carries limited quantities of certain items and some of those items are expected to be in high demand.
Steal Deal has requested that potential buyers visit their website for more information. The company has dedicated a page on their website for updating customers about their trade show attendance throughout the year. There is also contact information provided so that potential buyers can call to inquire about trade show details and items that will be available for purchase at the trade show.
About Steal Deal Inc.: Steal Deal Inc. specializes in urban clothing on a wholesale level in order to provide retailers around the country with the latest fashion for their stores. The company is based in Los Angeles, CA and operates an online website which allows customers to place orders and also find out more information about upcoming trade show appearances. The company is well-known for their relationships with vendors of the most in demand urban fashion brands and strives to provide competitive pricing. For more information, visit StealDeal.com.