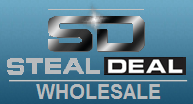 Los Angeles, CA (PRWEB) September 17, 2013
Steal Deal has announced that the company will participate in this fall's MEGA Show in Chicago. The company has announced its participation in the trade show via LAD Solutions in order to get the word out about the show so that more buyers can travel to view what the company has to offer.
Steal Deal will be participating in the trade show from September 17-19, 2013. The trade show will take place in the SYMS Building located in Glenview, Illinois. The company has also provided a phone number so that trade show participants can call in order to find out the booth number and other visitor information regarding the trade show.
Steal Deal has not yet announced which items they will include at this fall's trade show, but they have stated that they will have a number of new inventory items on hand so that buyers can place orders. Steal Deal will take orders directly at the company's booth during the trade show, and is encouraging buyers to arrive earlier in order to place their orders for the required items that they need. Steal Deal only maintains a limited quantity of all of the items that they have in stock. Therefore, it is in the best interest of the buyers to arrive as early as possible to place their orders for inventory.
Steal Deal has made a name for itself in the realm of wholesale urban clothing for men, women and children. Some of the brands that the company stocks include Reebok, Royal Blue, Rich Yung, THC. The brands that the company features are always changing as the company makes the focus of their business to stay in touch with the latest trends in urban wear. In addition, the company works with a large number of urban apparel stores across the country and the sales from these stores also play a factor as to which items Steal Deal stocks.
For more information regarding the details of the items that Steal Deal will have at this month's MEGA Show, the company has requested that interested parties call them directly via the contact information given on the company website at stealdeal.com. In addition, the company may also offer special discounts to buyers that attend the trade show, although this has not been officially confirmed, to keep in line with offers that have been made at previous trade shows that the company has attended.
About Steal Deal Inc.: Steal Deal is a major wholesaler of urban clothing. The company was started by Ebby and Michael Davood. The company has grown rapidly since its initial opening back in 2002 and they now maintain two warehouses and two showrooms located in Los Angeles and New York. For more information about the products offered by Steal Deal, visit the company's website at http://www.stealdeal.com.