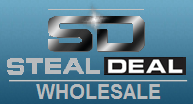 Los Angeles, CA (PRWEB) February 15, 2014
Steal Deal has announced that the company will be participating in the upcoming Las Vegas OffPrice Show which is set to be held at the Sands Expo and Convention Center on 201 Sands Ave in Las Vegas, Nevada. The company has made the announcement via LAD Solutions in order to increase the number of attendees to the show and purchase orders that are placed for items offered by Steal Deal.
Steal Deal specializes in wholesale quantities of urban fashion items and includes some of the most popular brands such as THC and Zoo York as part of the items in their inventory. The company says that it will have adequate stocks of its latest items and some new items available as well in time for the show so that customers can place purchase orders. Stock information for various items will be made available during the show so customers are encouraged to attend the show directly to ask questions about the inventory as certain information may change prior to the show.
In attention the company anticipates that the number of attendees to the show will be higher this year so it is encouraging people to arrive early in order to ensure that they are able to place orders for items while quantities of stock last. If any customers have any questions about the availability of certain items, Steal Deal representatives will be on hand at the show to answer any questions.
For customers that will be attending the show and wish to visit the Steal Deal booth, customers have been asked to call the company directly in order to find out exactly when the company's booth will be available and the exact location. The majority of details are already in place as the date of the show is in close proximity. However customers have been asked to reconfirm by calling if they are not sure where to find the latest updated information.
Steal Deal has made the details of this upcoming show and the other show dates available on their website. For booth information and show times, customers can visit the website for more information. To learn more about additional shows that will be upcoming for later in the year in 2014, Steal Deal has also made preliminary information regarding those shows available on their website.
About Steal Deal Inc.: Steal Deal is a Los Angeles based company specializing in hip hop and urban wear. The founds are are Ebby and Michael Davood and the company was founded back in 2002. Today Steal Deal supplies stores all over the United States with apparel and stocks the most popular brands of clothing as well as keeps up with the latest trends in urban fashions. For more information or to place an order, visit http://www.stealdeal.com.