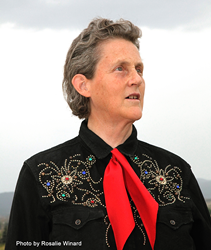 "It's so important that we continue to shift education, at all levels, to more interactive lessons – where people are engaging with real-world materials and solving real-world challenges."- Dr. Grandin
Boulder, Colorado (PRWEB) August 18, 2015
The Rocky Mountain Region's greatest hands-on science and arts festival just got more fantastic with the addition of internationally acclaimed scientist and speaker, Dr. Temple Grandin. Grandin will speak at 2pm on Sunday, September 6th at Rocky Mountain STEAM Fest, a family-friendly, two-day Science, Technology, Entrepreneurship, Art and Making (STEAM) Fest taking place at the Boulder County Fairgrounds.
"I want to experience the wonder of hands-on learning at STEAM Fest," Dr. Grandin said. "It's so important that we continue to shift education, at all levels, to more interactive lessons – where people are engaging with real-world materials and solving real-world challenges."
Grandin was the topic of an award-winning HBO movie and has written books chronicling her educational journey. Her inventions have transformed nearly half of all cattle processing in North America and other countries. Grandin's TED Talk has been viewed by more than three million people worldwide and can be viewed on the Maker Boulder website at http://www.MakerBoulder.com/who-is-temple-grandin.
"Grandin's story is proof positive that extraordinary things happen when learners have the opportunity to experience curriculum through roll-up-your-sleeves and get-dirty experiments, problem solving and prototyping – and you'll see all of that at the STEAM Fest," STEAM Fest Organizer Martha Lanaghen said.
STEAM University – STEAM Fest's Educator Event
Dr. Grandin's talk is part of STEAM Fest's STEAM University – an event for anyone in an educator's role (teacher, homeschooler, supervisor, troupe leader, etc). At STEAM University, educators will have the opportunity to acquire new teaching methods, connect with other educators, collaborate on shared challenges and get access to exciting new technologies.
STEAM University features three learning spaces, including the ground-breaking "Tab Lab" from the World Leadership School. Presenters include Jackson Westenskow from the Institute of Play; Christine Chopyak, bestselling author of Picture your Business Strategy; and successful entrepreneurs such as Aidan Chopra of Bitsbox and Mai Vu of KidzCode.org.
Access to all workshops at STEAM University, including Dr. Grandin's talk, is included in STEAM Fest ticket purchase. Tickets available at: http://www.GoSTEAMFest.com.
About Rocky Mountain STEAM Fest
STEAM Fest is a celebration of all things Science, Technology, Entrepreneurship, Arts and Making. Our fantastical (it's a word now!), hands-on event is Saturday, September 5th and Sunday September 6th. Learn more at http://www.GoSTEAMFest.com. Contact Martha Lanaghen for more information about exhibiting your business or sponsoring - info(at)MakerBoulder(dot)com or call Martha at (303) 257-6222.