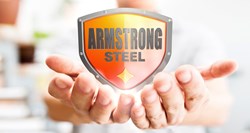 The feeling for us is impossible to describe.
(PRWEB) December 30, 2013
Armstrong Steel, well-known in the steel building industry for durable and priced-right pre-engineered steel structures, might not be known for an equally durable quality – its priceless generosity.
For Christmas this year Armstrong Steel President and CEO, Ethan Chumley issued a directive to his executive team. They were instructed to visit as many Denver retailers as possible on Christmas Eve and quietly, namelessly, and thanklessly pay off the layaway purchases for any ticket that included a toy.
"It was not meant as a publicity stunt, it was supposed to remain a secret," Chumley responded almost reluctantly. "When I was a kid, some of my greatest memories were looking under that tree and feeling excited because Santa brought me exactly what I wanted, and now my company gets to help some parents give that feeling to their kids, the feeling for us... is impossible to describe."
But the public shook the proverbial package and responded with overwhelming gratitude. Rick Childs of Arvada wanted to buy a pink bicycle for his daughter, but simply couldn't afford it. Yet he got a surprise while standing in the layaway line at a local K-Mart store on Christmas Eve.
"Three guys come up behind me and they put the credit card on the table and said we have a better idea, they purchased the bicycle for my daughter," said Childs.
The media was alerted and a story was quickly added to the evening's television line-up. While the publicity was flattering, that wasn't the point.
"This isn't going to help out our bottom line, it probably won't increase business. But the point wasn't to increase sales. We're a company driven by good people and we just wanted to give some of that back," said Chumley.
And what happened then--well, in Denver they say, that the Grinch's small heart grew three sizes that day.