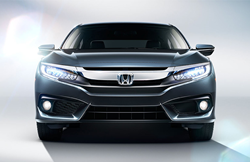 ST. JOHN'S, Newfoundland (PRWEB) June 11, 2020
Steele Honda, a Honda retailer in the St. John's area, has been advertising its latest vehicle sale, which can save customers $2,500. With 2020 models of the Honda Civic Sedan making their way to the dealership, Steele Honda is attempting to clear out its remaining inventory of 2019 Honda Civic Sedan vehicles. All 2019 models at the dealership are discounted by $2,500.
Customers who are interested in purchasing a 2019 Honda Civic Sedan can use the dealership's website, steelehonda.com, to view the current inventory and research the model. The remaining stock includes just five vehicles, all of which are the Touring trim level. Three of the 2019 Honda Civic Sedan Touring vehicles are now priced at $28,231, down from their original $30,731 prices. The remaining two vehicles are priced similarly. One of them is currently retailing for $28,331, and the other is set at $28,734. This final vehicle was also used as a demo vehicle, and thus has received an extra discount off of its original $31,832 price.
Steele Honda has reopened its vehicle showroom on June 8, and showroom hours are currently set at 9:00 AM to 7:00 PM Monday through Thursday, 9:00 AM to 5:00 PM on Friday, and 9:00 AM to 4:00 PM on Saturday. Currently, the dealership is operating its showroom by appointment only to reduce foot traffic and person-to-person contact. Appointments can be scheduled on the dealership's website.