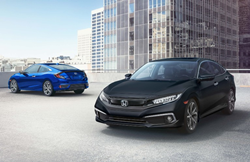 ST. JOHN'S, Newfoundland (PRWEB) March 01, 2021
Steele Honda, a dealership in St. John's, is offering a special lease offer and a bonus payment with the purchase of select 2021 Honda Civic models. Drivers who are interested in this model can lease a 2021 Honda Civic model for as little as $67 on a weekly lease. Plus, they can receive a 2021 Civic Bonus of $750 with their purchase when they purchase during the 2021 Honda Dream Garage Event. Drivers who would like to finance a 2021 Honda Civic instead of leasing can also take advantage of a special offer. Right now, drivers who sign for a 2021 Honda Civic purchase can enjoy 90 days of no payments starting from the date of purchase.
The 2021 Honda Civic models that are available with this special offer are of the LX trim level and have a CVT (Continuously Variable Transmission). The LX is the base model of the 2021 Honda Civic and has a starting price of $25,185. Some of its best features include its automatic high-beam headlights, heated front seats, low emissions and phone connectivity.
Drivers who are interested in leasing or purchasing a 2021 Honda Civic LX, learning more about the dealership or viewing other special offers are encouraged to visit the dealership's website, steelehonda.com. The Steele Honda website offers a comprehensive online inventory for new and used vehicles, financing information, contact information and much more. Drivers are encouraged to act fast for this temporary offer.