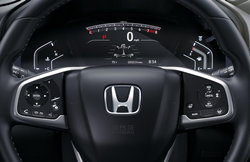 ST. JOHN'S, Newfoundland (PRWEB) October 26, 2020
Steele Honda, a Honda dealership located in St. John's, is currently promoting special offers on 2020 Honda models as it makes room for 2021 Honda models. The dealership encourages drivers in the St. John's area to find a special lease offer in autumn 2020. Special offers are available for 2020 models such as the 2020 Honda CR-V and the 2020 Honda Civic Sedan.
The 2020 Honda CR-V LX 2WD CVT is available for $80 on a weekly lease. Plus, drivers can receive a $750 CR-V bonus when they lease their new Honda CR-V at the dealership during the clear-out event. This offer is available with no security deposit and no down payment while supplies last. Interested drivers can view the dealership's inventory online at steelehonda.com.
Another popular model, the 2020 Honda Civic Sedan DX 6MT, is also available with a special lease offer right now at Steele Honda. Drivers who lease this model while supplies last can spend just $52 on a weekly lease, with no down payment and no security deposit. Furthermore, drivers can get a $1,000 Civic Bonus with this offer from Steele Honda. Drivers who are interested in the Honda Civic Sedan are encouraged to check out the dealership's online inventory on its website.
Questions and concerns about the 2020 Honda CR-V, 2020 Honda Civic Sedan or any special offer at Steele Honda can be directed to the dealership's sales team. Contact information for the dealership can be found on its website, including phone numbers for its departments and email addresses for its team. The dealership can also be visited in person at 547 Kenmount Road in St. John's.