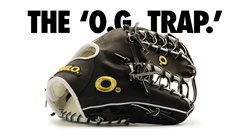 ...the game will eventually be at a place where it is ready for someone like me, and something like this, to step in and bring a new perspective to the game.
LOS ANGELES (PRWEB) July 14, 2020
Steelo Sports, the black-owned baseball start-up company out of California launched the newest glove model to their lineup, 'The O.G. Trap.' The classic 6-finger pro model comes in Black and Grey colorways, and is one of many new gloves in their collections getting buzz. Steelo is also launching a full 2021 line of gloves that are said to be a 'new direction' for the company.
Steelo became the first and only black owned baseball glove brand to have their products used in MLB back in 2018. During Major League Baseball's roster expansion period, the company made history when Jonathan Davis, center fielder for the Toronto Blue Jays, received his first big league call up. "It was a really special moment with so many mixed feelings," says Steve Friend, CEO & Founder. "On one hand you have an amazing dream being fulfilled in a young man's life with Davis' accomplishment, and on the other hand, while excited to check a goal off the list, you can't help but get back to the drawing board and continue to grind even more diligently to move the needle, conversations, and dialog."
Today, Steelo is still pushing forward while in the midst of global 'Black Lives Matter' protests and race relations running high across the world, not to mention an additional global pandemic. The timing of it all could almost be looked at as the perfect synergy for a glove company like this to make a splash, especially with an "Athlete Owned" business model focused on narrative change. The brand has a growing roster of MLB athletes like Sterling Sharp - MIA, Jonathan Davis – TOR, Pedro Strop – CIN, and one of the game's top prospects in Hunter Greene - CIN, who has been creating custom gloves and doing giveaways at his annual youth camps with Steelo for the last 2 years. The list doesn't stop there, with additional players across AAA, AA, A levels like prospects Ronnie Dawson – HOU and Ronnie Williams – STL to name a few.
"Things have quickly started to grow with some key initiatives we have put in place by design, along with all of the love and support we have been getting from people across the game, from the MLB level down to Youth baseball," says Friend. "I've been preparing this company for growth for 4 years, fine tuning, infrastructure building, and quietly doing my thing with blinders on, knowing that the game will eventually be at a place where it is ready for someone like me, and something like this, to step in and bring a new perspective to the game."
Friend was right. The calls have started coming in voicing everything from support, to advice, to partnership opportunities and more. Even Dusty Baker, manager for the Houston Astros has gloves from Steelo he is testing out. "The response from the black baseball player community in particular has been amazing thus far. The tragic loss of George Floyd's life has really ignited a fire and conversations that the world and the baseball industry have never seen before. There is a lot of unity happening among groups, players, and like minded people - it's both exciting and important to be in the middle of these moments in American history," he explains.
About Steelo Sports
Steelo Sports is a premium branded manufacturer of baseball equipment, sporting goods, and apparel. The company has a strong network of professional athletes, with industry leading manufacturing in fielding gloves, training apparel, baseball bats, batting gloves, protective gear, and footwear. Steelo's mission is to become the #1 leader in the high end baseball glove market while providing the best performance equipment to players of all ages and demographics. Steelo Sports is a privately owned company.
For more information and visuals for Steelo Sports, visit: http://www.steelosports.com & http://www.Instagram.com/steelosports
For Media & Press Contact: info@steelosports.com
SOURCE: Steelo Sports