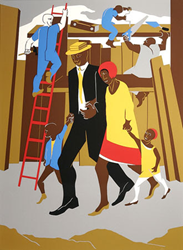 Over 60 legacy and contemporary artists will be on exhibit through September.
New Orleans, Louisiana (PRWEB) August 02, 2016
Stella Jones Gallery, one of the leading African American fine art galleries in the country, will celebrate this important milestone with a group exhibition entitled "INspired:  20 Years of African American Art," featuring works from 35 nationally and internationally recognized artists whose legacy has "INspired" 35 contemporary artists. These artists include Elizabeth Catlett, John Biggers, Jacob Lawrence, Lois Mailou Jones, Ed Clark and Richmond Barthe', who have each set the bar for African American art.
Over the past 20 years, Stella Jones Gallery has played a pivotal role in highlighting the aesthetic importance, historical relevance and collectability of Black Art.  With clients that span the globe, Stella Jones Gallery is committed to educating collectors and museums on the political, social and economic impact that African American Artists and their work have had.  This exhibition is a celebration of those efforts for over two decades celebrating Fine Black Art.
"INspired: 20 Years of African American Art" will be on exhibit Saturday, August 1st through September 30th.  An opening reception will be held on Saturday, August 6th from 2pm – 6pm at Stella Jones Gallery located at 201 St. Charles Avenue.  A list of artists expected to be in attendance will be made available on our website.  Interviews and discussions with artists should be coordinated through the gallery.
About Stella Jones Gallery
Stella Jones Gallery opened its doors in July of 1996 and is the realization of a dream of Dr. Stella Jones and the late Harry Jones to make black art accessible.  For 20 years the New Orleans based fine black art gallery has provided a venue for artists of the African Diaspora to exhibit superior works of art.
"We take very seriously the responsibility of providing collectors, both private and corporate, with art that is high in aesthetic quality and strong in investment potential. The gallery is equally motivated to raise the aspirations of African American youths by providing them with a better understanding of their heritage through the visual arts." - Stella Jones, MD - Gallery Owner
All events are free and open to the public and will be held at: Stella Jones Gallery - 201 St. Charles Avenue, New Orleans, Louisiana 70170. 
For more information about the 20 Year Celebration, please contact 504-568-9050 or visit http://www.stellajonesgallery.com or by email: info(at)stellajonesgallery(dot)com
Be sure to follow us on twitter at: http://twitter.com/stellajgallery and on Facebook at: http://facebook.com/stellajonesgallery