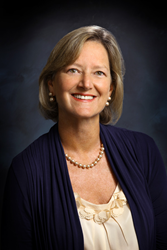 Celeste Ford is an outstanding role model who has built a reputable company known for accelerating the success of corporations and governments exploring space and global connectivity.-- Monica Smiley, CEO and Publisher, Enterprising Women magazine
PALO ALTO, Calif. (PRWEB) October 23, 2020
Celeste Ford, Board Chair and Founder of Stellar Solutions, Inc., has been named to the Enterprising Women Advisory Board. As a nationally-recognized supporter of women's advancement, Ford embodies the leadership values of Enterprising Women and its network of successful women business owners across North America and the world.
Enterprising Women, the nation's only woman-owned magazine published exclusively for women business owners, chronicles the growing political, economic and social influence and power of entrepreneurial women in 185 countries. The organization extends this influence through thought leadership conferences, recognition, online learning and the Enterprising Women Foundation which advances vital mentoring for female high school students.
Ford is a winner of the 2020 Enterprising Women of the Year Award.
Founding Stellar Solutions 25 years ago, Ford led the company to become a Malcolm Baldrige National Award-winning global aerospace and systems engineering services leader solving the most complex issues facing commercial and government clients today. A visionary in talent cultivation and retention, Ford distinguished the company early on with a mission to deliver high-impact projects and satisfy customer needs by ensuring that Stellar Solutions' highly trained experts are in their dream jobs.
"Celeste Ford is an outstanding role model who has built a reputable company known for accelerating the success of corporations and governments exploring space and global connectivity. Beyond her professional leadership is her equally important demonstration of support for women at all stages of growth in business and science. Enterprising Women welcomes Celeste's wisdom to our organization," said Monica Smiley, CEO and Publisher of Enterprising Women magazine.
"Enterprising Women's exemplary mentoring and thought leadership platform provides an exciting opportunity for women entrepreneurs to support each other and build a legacy of future female innovators. I am proud to contribute to these critical goals," Ford said.
Stellar Solutions provides key services in the multi-billion dollar marketplace for the development, delivery, and expansion of space exploration, communications and intricate technology connections across multiple frontiers. Ford established a unique and award-winning culture in which diverse perspectives and skills create a competitive advantage.
As an example, Stellar Solutions' "Crossing Boundaries" program was an early model of intersectional problem solving that continues to empower each of its 200 employees to draw upon the expertise of peers across the organization and the industries they serve.
This appreciation for diversity is illustrated by Stellar Solutions' extraordinary record of women in top leadership positions. In addition to Ford's position as Board Chair, women serve in three of seven technical Vice President roles: Vice President, Defense Programs, Janet Grondin; Vice President, Commercial Programs, Melissa Farrell; and Vice President, Civil Programs, Amy Chaput. The highly-respected former Vice President of Defense Betsy Pimentel continues to support the company's advancement as a key consultant.
This pursuit of disciplined excellence resulted in the Malcolm Baldrige Award, the nation's highest honor for performance excellence and sustainability, and its affiliate California Award for Performance Excellence (CAPE). Stellar Solutions has been recognized for its growth and culture as a Fortune Great Place to Work (2014 – Present), a Top 50 Women-Owned Businesses by the Silicon Valley / San Jose Business Journal, and one of the Fastest Growing Companies of the Bay Area by the San Francisco Business Times.
Ford's recognitions include Ernst & Young's Entrepreneur of the Year, the Silicon Valley Engineering Hall of Fame, Fortune Small Business Magazine's Best Bosses, and the Women in Aerospace Leadership Award.
Her early career included serving as a guidance and control engineer for COMSAT (Communications Satellite Corporation), and project manager with the Aerospace Corporation where her work on NASA's Space Shuttle Program led to recognition as "Woman of the Year."
She is a Fellow of the American Institute of Aeronautics and Astronautics (AIAA) and has been a member of the Council on Foreign Relations. She serves on the Board of Simpson Manufacturing and is a Trustee of the University of Notre Dame, where she attained her B.S. in Aerospace Engineering. She holds an M.S. in Aerospace Engineering from Stanford University.
Stellar Solutions, Inc.
Stellar Solutions is a global aerospace and systems engineering services provider to commercial, defense, intelligence, civil and international sectors. Stellar Solutions provides rapid-response capabilities related to global surveillance and cyber-security, space exploration, risk management, and technology optimization. These solutions to clients' critical needs involve satellites in space, sensors on Earth, and intricate technology connections across multiple frontiers. With physical operations in California, Colorado, the greater Washington DC area, London and France as well as employees throughout the U.S. and the globe, Stellar Solutions has become a recognized leader in delivering end-to-end critical expertise and problem-solving skills to dozens of significant programs. QuakeFinder, Stellar Solutions' humanitarian R&D division, pursues earthquake prediction models. http://www.stellarsolutions.com
Enterprising Women
Enterprising Women, with headquarters in Cary, North Carolina, is the nation's only woman-owned magazine published exclusively for women business owners that chronicles the growing political, economic and social influence and power of entrepreneurial women. The magazine provides a friendly meeting place, a public forum and a national stage for the critical issues confronting women's businesses and daily lives from the unique perspectives and experiences of entrepreneurial women. Published in both print and digital editions, the online edition of the magazine reaches one million readers in 185 countries. For more information, please visit enterprisingwomen.com