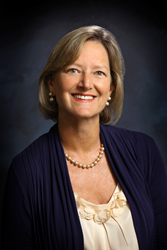 I am honored to be in the company of such accomplished and dynamic women pioneers from the U.S. and around the globe. Our shared ambitions for and support of the women and girls who will lead us in the future is inspirational. -- Stellar Solutions Board Chair Celeste Ford
Palo Alto, CA (PRWEB) January 10, 2020
Celeste Ford, Founder and Board Chair of Stellar Solutions, Inc., a global aerospace engineering services leader, will be honored as a winner of the 2020 Enterprising Women of the Year Awards, an annual tribute to the world's top female entrepreneurs.
This Enterprising Women of the Year Awards are widely considered one of the most esteemed recognitions for women business owners. The presentations will take place at a Gala Dinner during the final evening of the 18th Annual Enterprising Women of the Year Awards Celebration & Conference, to be held at the Wyndham Clearwater Beach Resort in Florida from Sunday, March 29 to Tuesday, March 31.
"Celeste Ford demonstrates the leadership qualities of our Enterprising Women of the Year: as Founder and Board Chair of a successful company, as a passionate mentor of women and girls on the path to entrepreneurship, and as a committed contributor to her community, the nation and the world," said Monica Smiley, Publisher and CEO of Enterprising Women magazine.
Ford was one of only four honorees in the "over $50 million in annual sales" category.
"I am honored to be in the company of such accomplished and dynamic women pioneers from the U.S. and around the globe. Our shared ambitions for and support of the women and girls who will lead us in the future is inspirational," Ford said.
Celeste Ford founded her Malcolm Baldrige National Quality Award-winning organization in 1995 with the vision to satisfy customers' critical needs while realizing employees' dream jobs.
Stellar Solutions is a global aerospace engineering services provider solving the most complex issues that commercial and government clients face today. It has been providing high impact engineering services, end-to-end technical expertise and creative solutions to significant national and international customers for over 20 years. With sister companies based in the United Kingdom and France, the Stellar constellation of companies operates seamlessly together to serve customers' critical needs across global markets.
Ford founded the Stellar Solutions Foundation in 1998. The corporate foundation supports community-based and charitable organizations and enables employee-driven involvement.
Ford established the QuakeFinder humanitarian R&D program in 2001. This initiative is transforming earthquake forecasting research from a science fiction dream into an achievable goal to save lives.
Ford's distinguished career includes serving as a guidance and control engineer for COMSAT (Communications Satellite Corporation), and as a project manager role with the Aerospace Corporation where her work on NASA's Space Shuttle Program led to her being named "Woman of the Year" among other leadership positions.
Ford holds a Bachelor of Science degree from the University of Notre Dame and a Master of Science from Stanford University, both in Aerospace Engineering. A compelling thought leader and passionate advocate for key issues, she serves as a known and respected expert on numerous technical panels, congressional commissions, and boards of major universities and companies. She is also affiliated with the Silicon Valley Leadership Group and the national Council on Foreign Relations.
Her recognitions include Ernst & Young's Entrepreneur of the Year, the Silicon Valley Engineering Hall of Fame, one of Fortune Small Business Magazine's Best Bosses, and the Women in Aerospace Leadership Award. In 2019, she received the inaugural Athena "Woman of Wisdom" Award by the Palo Alto Chamber of Commerce.
Stellar Solutions has made Fortune Magazine's "Great Places to Work" list for the past five years running.
She resides in Portola Valley, CA with her husband Kevin and they have three grown children.
To read more about Stellar, see http://www.stellarsolutions.com.