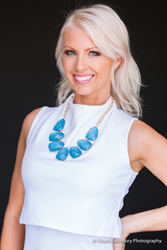 By bringing her insights and experience as a successful systems engineer and Air Force Reservist to the community, Christina Agnew serves as a leader and role model for careers in military and scientific realms. -- Stellar Solutions CEO Michael Lencioni
PALO ALTO, Calif. (PRWEB) February 16, 2021
Christina Agnew, Senior Systems Engineer at Stellar Solutions, a global aerospace and systems engineering leader, has been awarded the National Medal of Merit by the Air Force Association (AFA). Agnew received the honor based upon her exceptional volunteer services in building a community-wide initiative to support members of the Space and Missile Systems Center (SMC) and their families in the Los Angeles region.
"With many veterans in our leadership ranks, we at Stellar Solutions are enormously proud of Christina Agnew's passionate dedication to the professional advancement and recognition of Air Force and Space Force personnel and their families. By bringing her insights and experience as a successful systems engineer and Air Force Reservist to the community, she also serves as a leader and role model for careers in military and scientific realms," said Stellar Solutions CEO Michael Lencioni.
A Major in the Air Force Reserves, Agnew joined the AFA Schriever Chapter 147 Los Angeles in 2014 following nine years of active duty. She spearheaded the Schriever Wall of Honor to recognize the foundational pioneers of military space and organized an event celebrating the inaugural wall unveiling on the 60th SMC anniversary. This drew people from across the country and dignitaries such as then Mayor of Los Angeles Eric Garcetti.
Agnew regularly tutors high school students, speaks at STEM events and mentors aspiring Air Force candidates. She joined Stellar Solutions in 2016, where she serves as a senior systems engineer guiding the U.S. Space Force launch, satellite, and ground systems through development and into operations.
In 2018, she was named Chair of the Schriever Chapter's Airman and Family Support Committee. There she forged partnerships with base organizations reaching senior and rising officers and enlisted service people and civilians, with the goal of advancing AFA member mentorship, leadership recognition, family support and team morale events.
Immediate Past President of the General Bernard A. Schriever Chapter Arnie Streland said, in nominating her, that Agnew advanced "a model program, supporting the entire breadth, officer, airman and civilian, of the 6000 person Space and Missile Systems Center family."
Along with a successful career at Stellar Solutions, Agnew has advocated for Air Force service people in Congress, writing a point paper for Congress on how to solve budgetary inequities facing Air Force Active Duty members seeking to join the Reserves.
Agnew is currently serving as the Deputy Chief, Integration Division, Space Programs, Office of the Assistant Secretary for Acquisition where she was awarded the 2020 Reserve Field Grade Officer of the Year.
She received her Bachelor of Science in Aeronautical Engineering at the U.S. Air Force Academy (Distinguished Graduate), and a Masters of Science in Aeronautical Engineering (Top Graduate) at the U.S. Air Force Institute of Technology, and an MS in Military Operational Art and Science (Highest Academic Distinction).
The mission of the AFA is to "promote dominant U.S. Air and Space Forces as the foundation of a strong National Defense; to honor and support our Airmen, Guardians, and their Families; and to remember and respect our enduring Heritage."
About Stellar Solutions, Inc. Stellar Solutions is a global aerospace and systems engineering services provider to commercial, defense, intelligence, civil and international sectors. Stellar Solutions provides rapid-response capabilities related to global surveillance and cyber-security, space exploration, risk management, and technology optimization. These solutions to clients' critical needs involve satellites in space, sensors on Earth, and intricate technology connections across multiple frontiers. With physical operations in California, Colorado, the greater Washington DC area, London and France as well as employees throughout the U.S. and the globe, Stellar Solutions has become a recognized leader in delivering end-to-end critical expertise and problem-solving skills to dozens of significant programs. QuakeFinder, Stellar Solutions' humanitarian R&D division, pursues earthquake prediction models. http://www.stellarsolutions.com