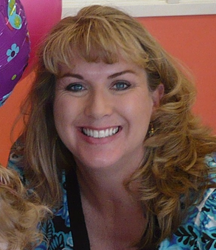 As a professional, veteran, mentor and volunteer, Laura Pope has inspired countless careers in space, science and engineering. We at Stellar Solutions rely on her to be an ambassador of possibilities for our company and our industry. -- Stellar Solutions CEO Michael Lencioni
PALO ALTO, Calif. (PRWEB) December 04, 2020
Laura Pope, Senior Systems Engineer at Stellar Solutions, the global aerospace engineering services leader, has been honored with the AFCEA Women's Appreciation Award that each year recognizes only a handful of its members from around the world who, regardless of gender, have made extraordinary contributions to further the careers of women.
"As a professional, veteran, mentor and volunteer, Laura Pope has inspired countless careers in space, science and engineering. We at Stellar Solutions rely on her to be an ambassador of possibilities for our company and our industry," said Stellar Solutions CEO Michael Lencioni.
"I cannot think of anyone more deserving than Laura for this award. This recognition by Women in AFCEA is terrific. Laura has touched the lives of, and made such a positive impact on, so many women and girls over the years. The fruits of her efforts will blossom into our current and future Space Force, " said Doug Holker, Principal Director, The Aerospace Corporation, and AFCEA Los Angeles Chapter Board of Directors.
The Women's Appreciation Award is bestowed annually by Women in AFCEA on AFCEA members who have furthered the careers of women and women students in many ways, including facilitating introductions, mentoring, supporting and sponsoring STEM scholarships and careers, advocating for promotions, and providing opportunities for women to network, learn new skills, and develop professionally. Winners are selected by the women's award committee and honored at the Women's Appreciation Event held at AFCEA/USNI WEST in San Diego each year.
Pope is a strategic executive with adaptable skills to serve three of Stellar Solutions' five sectors – defense, intelligence and civil – with a current focus on supporting the U.S. Space Force and NASA's Human Exploration and Operations.
Prior to joining Stellar Solutions in 2008 – the same year she joined AFCEA –
Pope led a distinguished, 21-year career as an Air Force military officer. She continues to help fill the pipeline of talent for the company, the military and AFCEA. While she is as passionate about teaching science to boys as she is to girls, her experience being one of only four women in her class of aerospace engineers at Stanford University shaped a lifelong enthusiasm for professional mentorship for women.
On behalf of Stellar Solutions, a Malcolm Baldrige-award winning woman-owned business, Pope has personally assisted in placement of over 20 women in technical and programmatic leadership positions in the Los Angeles area.
Among her volunteer roles in support of the military, she was hand-picked by the Honorable Ted Lieu, Congressional Representative for California, to annually evaluate nominations and interview men and women candidates to recommend appointments to all U.S. military academies.
As an Air Force Association (AFA) Chapter #147 Vice President of Education Programs she ensures that women are prominently featured in professional seminars and speaker panels at executive forums. She has mentored over 20 female military officers transitioning to careers in the aerospace defense industry; and her personal mentorship of a female AF junior engineering officer contributed to her mentee making the Air Force a long-term career, ultimately reaching the rank of general.
Among her other roles in supporting female active duty and veterans, she has served as Veterans Outreach Leader for the Daughters of the American Revolution (DAR) in Los Angeles and participated in "Women in AFCEA," "Women in Defense (WID)" and "Women of NASA (WON)" group activities for career development and networking.
Since the AFCEA Los Angeles Chapter's Board of Directors in 2009, Pope served as its Vice President of STEM for several years, making key connections among female business and government professionals to senior Air Force, Space Force and Industry leaders in the area. She has mentored many women in the AFCEA-Los Angeles Chapter, introducing them to senior Government and Industry leaders associated with Space and Missile Systems Center.
Yet Pope is most passionate about her initiatives to introduce science as a living, breathing reality to young children. Some examples are her "Hands-On Science" experiments for 400 elementary school children of all ages and grades, and after-school STEM Night events for three elementary schools, procuring materials and explaining science processes and personally leading participative experiments for the students.
She sponsored Palos Verdes High School (PVHS)'s Palos Verdes Institute of Technology (PVIT) Space Team for four years, led by two young women, to design and build a small satellite "Cubesat" from scratch. She has led "Science for Girls" STEM classes for Los Angeles Air Force Base Youth Programs. She ran the AFCEA-LA STEM Teacher teaching grants program to provide multiple $500 grants every year for local STEM teaching tools in schools around Los Angeles, and helped establish an "AFCEA-LA named" endowed, annual STEM scholarship at El Camino Community College, open to both female and male students with technical degrees.
To support the teaching of science and veterans, Pope sponsored EnCorps, an organization enabling retired female and male technical professionals to serve the community as much-needed, highly-qualified teachers and substitute teachers for math and science.
"So many of my colleagues and I care deeply about inspiring and growing the next generation of technical scientists and engineers and hope to have a positive impact in our industry and society," she says.
AFCEA provides a forum for military, government and industry communities to collaborate so that technology and strategy align with the needs of those who serve. A professional association for those engaged in defense, security and all related technology disciplines, its membership comprises military, government, industry and academic organizations and individuals worldwide.
Stellar Solutions, Inc.
Stellar Solutions is a global aerospace and systems engineering services provider to commercial, defense, intelligence, civil and international sectors. Stellar Solutions provides rapid-response capabilities related to global surveillance and cyber-security, space exploration, risk management, and technology optimization. These solutions to clients' critical needs involve satellites in space, sensors on Earth, and intricate technology connections across multiple frontiers. With physical operations in California, Colorado, the greater Washington DC area, London and France as well as employees throughout the U.S. and the globe, Stellar Solutions has become a recognized leader in delivering end-to-end critical expertise and problem-solving skills to dozens of significant programs. QuakeFinder, Stellar Solutions' humanitarian R&D division, pursues earthquake prediction models. http://www.stellarsolutions.com