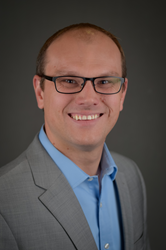 We have an award-winning program with promising results, and QuakeFinder is seeking partners necessary to continue research, expand the array, improve instrumentation, and refine the algorithms to forecast earthquakes. -- Dan Schneider, Stellar Solutions Dir. of Research & Development, QuakeFinder
PALO ALTO, Calif. (PRWEB) November 14, 2019
QuakeFinder, the humanitarian research and development initiative of Stellar Solutions, Inc., has just published landmark research on earthquake forecasting in Computers & Geosciences, the peer-reviewed academic journal. The study, which examines electromagnetic earthquake precursors covering the major faults in California from 2005 to 2018, advances QuakeFinder's research into predictive indications in Earth's magnetic field that may be identified several days prior to an earthquake.
The manuscript, "An algorithmic framework for investigating the temporal relationship of magnetic field pulses and earthquakes applied to California," has completed peer review and received final acceptance for immediate online and print publication in the peer-reviewed journal Computers & Geosciences at https://doi.org/10.1016/j.cageo.2019.104317.
"We understand this to be the largest ever study of electromagnetic earthquake precursor studies," said Michael Lencioni, CEO of Stellar Solutions. "This is quite an exciting development for our team that's been hard at work for over fifteen years, as well as the entire community." Stellar Solutions is a Malcolm Baldrige Award-winning aerospace systems engineering company based in Palo Alto.
"The current data provide hints that earthquake precursors may exist in the magnetic field, and this paper represents a major step forward in the challenge faced by QuakeFinder to conclusively demonstrate the existence of these precursor signals and then work towards isolation that will allow individual earthquakes to be forecast," said Dan Schneider, QuakeFinder's Director of Research and Development.
The treated data set exceeds prior published research by over an order of magnitude, and suggests, with 98.6% (2.2 sigma) confidence, that magnetic field exhibits precursory behavior in the period of four to 12 days prior to earthquakes. While this approach is not yet accurate enough to forecast individual quakes, research indicates that results will improve with enhanced signal processing.
Prior warning based on seismic observations currently comes only seconds before earthquakes that kill and injure thousands of people and cause billions of dollars in damage every year. QuakeFinder's work is poised to transform definitive earthquake forecasting from a science fiction dream into an achievable goal.
Since 2005, Stellar Solutions, along with government, industry and not-for-profit partners, has invested more than $30 million in QuakeFinder. Stellar developed an innovative suite of sensors for detecting pre-seismic underground electromagnetic disturbances, leading to the deployment of an induction magnetometer in space (Quakesat) and a terrestrial network of 150+ sensor stations which have now collected over 80TB of data and observed well over 1000 earthquakes of magnitude 3.0 or more near its stations. Most prior work in this field has focused on a handful of earthquakes or a single event, yet algorithm advancements require numerous observations from a sensor array.
"We have an award-winning program with promising results, and QuakeFinder is seeking additional funding and partners necessary to continue research, expand the array, improve instrumentation, and refine the algorithms to forecast earthquakes," Schneider added.
The QuakeFinder team is continuing its work to perform statistically valid research beyond individual quakes or small sample sizes. Schneider will be presenting these results at the American Geophysical Union conference this December in San Francisco on Friday, December 13, 2019 (Abstract NH52B-05 - QuakeFinder's Algorithm Results for Forecasting Earthquakes).
This news caps off an award-winning year for Stellar Solutions and its QuakeFinder team. In June 2019, Stellar was announced as one of ten Phase 1 winners of the MagQuest $1.2 million National Geospatial-Intelligence Agency (NGA) competition to advance the efficiency, reliability, and sustainability of geomagnetic data collection for the World Magnetic Model. And in September, Stellar was announced as one of five winners in the second phase of this federal competition to enhance the WMM which is vital to navigation data and capabilities.
Computers & Geosciences publishes high impact, original research at the interface between Computer Sciences and Geosciences. Its articles apply modern computational and informatics-based computer science paradigms to address problems in the geosciences.
Stellar Solutions: Delivering High-impact Performance on Earth and in Space
Stellar Solutions is a woman-owned business that for nearly 25 years has delivered high-impact engineering expertise to government and industry customers across a range of professional and technical disciplines. Serving the intelligence, defense, civil, and commercial sectors, Stellar provides rapid-response capabilities related to global surveillance and cyber-security, space exploration, risk management, and technology optimization. These solutions to clients' critical needs involve satellites in space, sensors on Earth, and intricate technology connections across multiple frontiers. This agile business has forged a competitive advantage by crossing boundaries among vital programs and applying the expertise of its entire seasoned workforce to technical challenges.
Named one of the best small and medium workplaces in the U.S. by Fortune Magazine and Great Place to Work® since 2014, Stellar Solutions recently received the Malcolm Baldrige National Quality Award, the nation's highest honor in performance excellence and sustainability. It offers global reach through international sister companies and programs in the UK and continental Europe, and social responsibility with its foundation and QuakeFinder humanitarian research and development effort.
For more information, visit http://www.stellarsolutions.com.