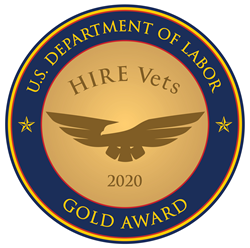 As a company that solves complex issues facing government and commercial clients, we are deeply appreciative of the knowledge, expertise, agility and leadership that our veterans bring to our capabilities and our culture, -- Stellar Solutions CEO Michael Lencioni
PALO ALTO, Calif. (PRWEB) November 30, 2020
Stellar Solutions, a global aerospace engineering services leader, has been awarded the 2020 Honoring Investments in Recruiting and Employing American Military Veterans (HIRE Vets) Gold Medallion Award. Veterans make up 41% of Stellar Solutions' workforce and include members of its top leadership team: CEO Michael Lencioni, Vice President Intel Programs Walt Eilers, Vice President Government Programs Kevin Girkins; Vice President Defense Programs Janet Grondin, and Vice President Cyber Strategies and Defense Support Punch Moulton.
U.S. Secretary of Labor Eugene Scalia recognized Stellar Solutions as one of the 675 recipients of the 2020 HIRE Vets Gold Medallion Award during an award ceremony at the U.S. Department of Labor. Companies were selected for showing a commitment to hiring veterans, but also ensuring that they have a long-term career and growth plan that uses the diverse skills they acquired through their military service.
"Stellar Solutions is honored to receive the 2020 HIRE Vets Gold Medallion Award. As a company that solves complex issues facing government and commercial clients, we are deeply appreciative of the knowledge, expertise, agility and leadership that our veterans bring to our capabilities and our culture," said Lencioni.
Currently celebrating its 25th Anniversary, Stellar Solutions provides key services in the multi-billion dollar marketplace for the development, delivery, and expansion of space exploration, communications and intricate technology connections across multiple frontiers. It has established a unique and award-winning culture in which diverse perspectives and skills create a competitive advantage.
"Women and men from the military are skilled at adapting to new environments and fearless in taking on new challenges. In an environment that requires continued innovation and speed, our veterans bring tremendous momentum to our clients' projects and success," Lencioni added.
The HIRE Vets Medallion Award is based on a number of criteria, ranging from veteran hiring and retention to providing veteran-specific resources, leadership programming, dedicated human resources, and compensation and tuition assistance programs – with requirements varying for large, medium, and small employers.
The Honoring Investments in Recruiting and Employing American Military Veterans Act (HIRE Vets Act) Medallion Program is the only federal award program that recognizes job creators who successfully recruit, hire, and retain veterans.
About the HIRE Vets Medallion Program
The HIRE Vets Medallion Award is earned by leading businesses that demonstrate unparalleled commitment to attracting and retaining veterans. The 2021 HIRE Vets Medallion Program will open to employers on Jan. 31, 2021. For more information about the program and the application process, visit http://www.HIREVets.gov.
Stellar Solutions, Inc.
Stellar Solutions is a global aerospace and systems engineering services provider to commercial, defense, intelligence, civil and international sectors. Stellar Solutions provides rapid-response capabilities related to global surveillance and cyber-security, space exploration, risk management, and technology optimization. These solutions to clients' critical needs involve satellites in space, sensors on Earth, and intricate technology connections across multiple frontiers. With physical operations in California, Colorado, the greater Washington DC area, London and France as well as employees throughout the U.S. and the globe, Stellar Solutions has become a recognized leader in delivering end-to-end critical expertise and problem-solving skills to dozens of significant programs. QuakeFinder, Stellar Solutions' humanitarian R&D division, pursues earthquake prediction models. http://www.stellarsolutions.com