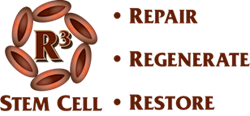 Over 85% of patients who undergo stem cell therapy have an excellent outcome and avoid surgery!
South Jordan, Utah (PRWEB) May 15, 2017
R3 Stem Cell is now offering effective stem cell therapy in South Jordan Utah with South Valley OrthoMed and Dr. John Sonnenberg. The regenerative medicine therapies work exceptionally well for arthritis, tendonitis, ligament injuries and sports injuries. Call (844) GET-STEM for more information and scheduling at this R3 Stem Cell Center of Excellence.
Stem cell treatments are now mainstream, and patients nationwide have been able to avoid the need for potentially risky surgeries. Dr. Sonnenberg is a Board Certified orthopedic surgeon, with over thirty years experience helping patients achieve relief.
Several types of treatment are offered, including bone marrow, adipose and amniotic stem cell therapy. While all of them are effective, Dr. Sonnenberg is able to customize the best option for each particular patient. This may include a combination of the treatments for optimal relief.
All of the regenerative procedures are outpatient, with minimal downtime. Athletes are able to recover from injuries quickly, such as from a knee ligament tear or rotator cuff injury. In addition, the procedures have been amazing for joint arthritis. Most patients are able to get back to desired activities such as tennis, golfing, cycling and more.
For the top stem cell therapy in Utah, call R3 Stem Cell today at (844) GET-STEM.