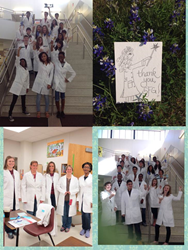 The lab coats provided by Medelita allowed my students to stretch their possibility thinking in an ENORMOUS way, helping them envision who they could become with some hard work and dedication.
Lewisville, Tex. & San Clemente, Cal. (PRWEB) April 30, 2014
Middle school and Freshman age high school students across America are faced with one of the most pressing challenges of their generation: how to remain competitive in a global marketplace where students in many other countries are leading the U.S. in the fields of science, technology, engineering, and math (STEM).
This has spawned a nationwide initiative at U.S. high schools and colleges to implement STEM education programs to ensure that the undeserved students are able to overcome barriers to these fields and grow into careers in math and sciences. Medelita has been approached by multiple organizations across the country to pledge support by donating lab coats to individuals in various programs.
Recent studies have found that the phenomenon known as "enclothed cognition" can play a powerful role in the confidence levels of those who wear white lab coats when making critical decisions. When high school students put on Medelita lab coats, it's a transformative experience for some, especially those who couldn't imagine themselves as scientists or doctors until trying it on for a day.
Barbara Stock, an AP and ESL Biology teacher from Lewisville High Harmon Campus contacted Medelita after reading about our support of the STEM program in Utah using the following letter:
"Dear People of Medelita,
With great hope I encountered the article about your donation to Girl Scouts while searching for a lab coat source for my AP Biology students. If you can spare a few moments, please indulge me by reading my story.
As a new science teacher, I was thrilled to have any excuse to wear my first lab coat. Even now, 30 years of teaching later, it never fails to elicit the "What's the lab today, Doctor Stock?" comment from colleagues and students alike when I wear it. That always makes me smile, and I have seen the same delight and pride on student faces when I loan them my coat for a demonstration or presentation in class.
These experiences combined with reading Paul Tough's book How Children Succeed last fall, gave me the germ of an idea. I teach AP Biology, a college level course, to high school freshmen in a Title I school. Needless to say, it is a relentless challenge for them. In Tough's book, I chanced upon three characteristics he deems essential that made a neat acronym: GRR. It stands for Grit, Resiliency and Resourcefulness. I adopted it as a motto for my classes when the going was rough (Got GRR?) and envisioned a motivational group picture of them on our main stairs, each in a lab coat and holding a piece of lab equipment.
I first thought of borrowing lab coats, but only a couple of the ten Biology and Chemistry teachers on our campus owned one. I then investigated the idea of a "one day loan and return" from a university store at a nearby med school that has a great educational outreach program. It turned out, after clearing several approval challenges, that it was not allowable by university policy. I finally spent an evening with my daughter searching online and she discovered the Girl Scout story.
After looking at your core values, your company seemed like the sort of organization that could help me empower these kids. They are terrifically dedicated and hard-working, many with ambitions for careers in medicine or research. Very heartening to me is the 56% who are girls. I believe the experience of putting on a lab coat for this picture might truly be a day of life-changing possibility thinking for them and a great boost to this pilot program. I am also hoping it will provide an infusion of inspiration to excel on their exam for college credit eligibility on May 12.
Please let me know if you are able to help or if you know of another avenue I might pursue to accomplish this goal. I have 18 students per class, so that is the number of coats I would need to take the picture, one group at a time.
Thank you so much for taking your valuable time to consider my request and for being the kind of company that encourages proposing such ideas.
Sincerely and hopefully,
Barbara Stock
Lewisville HS Harmon
AP and ESL Biology"
Eventually the coats made their way to the hands of the students in her class and she sent the company back some pictures and many heartfelt words of thanks. After using the lab coats with her classes, Barbara contacted Medelita again to let them know how things were going,
"We are a freshman/sophomore campus trying out a pilot program of all freshman AP Biology classes. Class population more than doubled after the first year.
We are a Title I school, so we have a high percentage of kids with language and economic challenges. As a science department, we are committed to increasing interest in and quality of STEM education, to encourage as many students as possible to enter those careers.
Our campus is actively involved in providing programs that encourage students to be college and professional career bound, by empowering their thinking that it IS possible for them, even if it seems like there are huge obstacles in their path.
The lab coats provided by Medelita allowed my students to stretch their possibility thinking in an ENORMOUS way, helping them envision who they could become with some hard work and dedication to a dream."
Medelita is proud to be a part of something that empowers students to realize their dreams, or at the least, explore an area of learning that is vitally important to their future. The company would like to wish a great big thank you to Barbara Stock, her colleagues, and her hard-working students for allowing us to play a minor role in this initiative.
About Medelita
About Medelita
Medelita, founded in 2008, is changing the way that healthcare professionals think about their professionalism and their uniform by upgrading the traditional lab coat and scrub set in every conceivable way. The brand revolves around contemporary designs, the highest quality performance fabrics, finishing details, functionality and fit. Medelita believes there is a strong connection between appearance, confidence, poise and success. The company was founded by a licensed physician assistant who demanded more from the existing selection of frumpy clothes that she was forced to wear. Visit: http://www.medelita.com