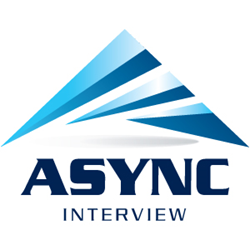 Candidate feedback is overwhelmingly positive and by using Async we've impressed potential hires with our technology used in the hiring process.
Philadelphia, PA (PRWEB) January 21, 2015
Async Interview, a technology and service-oriented job interviewing company, has helped the tech sector achieve higher levels of recruitment success using digital interviews. The adaptation of digital interviewing technology has allowed tech companies to both create new technology positions and to fill existing positions.
"Video interviewing has been a time saver for our team and helped streamline our interview process," explains Debra Manning Dutko, Talent Acquisition Manager for Stratus Technologies, Inc., a Massachusetts technology company that has used Async's online interviewing services for the past two years. "Candidate feedback is very positive and by using Async we've impressed a number of potential hires with our technology used in the hiring process."
Async's services are part of a growing trend towards encouraging job creation in the STEM sector. STEM jobs are important for economic growth. This is the fastest-growing employment sector and represents a hidden job market for those who don't have a bachelor's degree. According to a 2013 Brookings report, 20 percent of all jobs require high levels of STEM knowledge and about half of these jobs are available to those without a four-year degree (source: http://www.brookings.edu/research/reports/2013/06/10-stem-economy-rothwell)
Although economic policymakers have traditionally focused on jobs that require a college diploma, these STEM figures have caught the policymakers' attention. Async provides digital interviewing technology to employers to help prescreen and interview job candidates.
"Our video interviewing service can streamline the recruitment process and help candidates stand out during interviews for STEM jobs," says Chris Young, CEO of Async Interview. "We consistently get positive feedback from candidates about the ease of use, plus they are more excited about working for people who use this type of technology." Async has found that over 90 percent of candidates feel more positively towards employers that use video technology. Candidates tend to respect companies that use digital interviewing because it demonstrates that the companies use cutting-edge technology.
For more information about Async's digital interviewing services, please visit http://www.asyncinterview.com.
About Async Interview
Async Interview is a digital interviewing platform provider that supplies the technology and service to meet the needs of corporate and outsourced recruitment professionals. Its suite of video and audio interviewing tools are built to revolutionize the recruiting process, which is bogged down in inefficiencies, rising costs, and laborious procedures. The cloud-based real-time system gives recruiters, human resource professionals, and hiring managers the ability to conduct live and pre-recorded interviews, evaluate talent, collaborate on the review process, and identify top candidates in the emerging workforce. For more information, visit Async Interview or contact info(at)asyncinterview(dot)com.