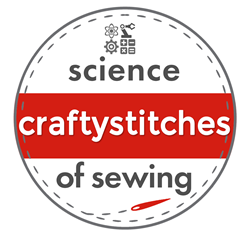 Creating a sewing movement one stitch at a time.
Leesburg, VA (PRWEB) August 27, 2013
CraftyStitches STEM Sewing Studio, the first of its kind will hold its ribbon cutting ceremony on September 7 at noon. The Town of Leesburg and neighboring communities of Ashburn, Landsdowne and Sterling bubble with excitement as the school provides more STEM focused activities in the County.
CraftyStitches STEM Sewing Studio is a 1500 sq. ft. space that welcomes all things fibers. The studio hosts classes for both children and adults in sewing, knitting, and crochet, with no experience necessary. The programs include Sew Genius™ (for kids incorporating STEM), Sew Fashionista (for teens), & Sew Crafty (for adults).
CraftyStitches' Sew Genius™ program uses sewing to introduce and encourage STEM (Science, Technology, Engineering & Mathematics) fields to young girls. In 6-week courses, the program breaks down sewing to deliver the craft in its most raw form, in correspondence with the STEM acronym. The students begin with the science of fabrics and textiles, then to the technologies that are involved in creating the fabrics. Later, the students begin to understand what it takes to construct a finished accessory and the project planning and management that is required for that accessory to be successfully functional. This is also where the mathematics and measurements are introduced.
Owner and Founder Jennifer Michael holds a BALS from Georgetown University and MS from George Mason University. "I want to teach the next generation of problem solvers through sewing. Sewing teaches composition, how things are made and engineering skills that go far beyond a simple life skill or artistic hobby." She speaks about always having to choose between art and math throughout her life. CraftyStitches STEM Sewing allows me to use both sides of my brain and be proud of being that way.
Leesburg mayor Kristen C. Umstattd is officiating the Ribbon Cutting Ceremony of CraftyStitches STEM Sewing Studio on September 7 at noon. The team at CraftyStitches is receiving support from various education institutions and specialty school for their STEM k12 efforts. Among the list of attendees are members of George Mason University, Loudoun County School Board of Education, Fairfax Arts Council and Wolf Trap. All community members are welcome to celebrate the opening of the STEM Studio.
When: September 7 2013 12:00 PM
Where: CraftyStitches STEM Sewing Studio
1604 Village Market Blvd SE #105 (behind AT&T store)
Leesburg, Virginia 20175
Who: Everyone welcome