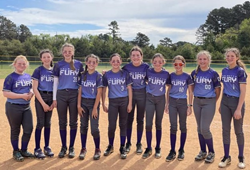 Winning programs can be developed while learning key STEM and life lessons
FORT MILL, S.C. (PRWEB) May 21, 2021
The Palmetto Fury™ 12U Fastpitch Travel Softball team's recent achievement of earning Top Points leader status in the Top Gun™ Softball system shows a winning program can be developed while learning key STEM and life lessons. The Fury recently earned Top Points leader status among 299 12U teams across seven Southeastern states (GA, MD, NC, SC, TN, VA, WV).
The Palmetto Fury 12U Fastpitch Travel Softball team is a dedicated focus group where its parent organization, Palmetto STEM Athletics Foundation, teaches STEM and life skills via a "STEM through Sports" approach. The foundation also runs a similar 14U group.
STEM lessons include identifying all the elements used in softball on the Periodic Table ( https://youtu.be/5C6keePi27s ), a session on how the pitching machine motor works, and a special diversity and inclusion focus session on MLK Day. Additional modules include how to patent ideas, with one of the Fury players developing a patent pending softball equipment offering.
"We had the best day ever, and earning the Top points status shows we have been very competitive all year. Its great to see the young ladies grow in softball, as well as in the STEM and life skills training the Fury is providing," said Palmetto STEM Athletics Foundation founder and 12U Head Coach Joe Razum.
Earning this spot was not easy. On the first day of the tournament, the Fury went undefeated (4-0) for the first time. Down 5-3 in the last inning, in the first bracket game, the Palmetto Fury 12U team dug deep and battled back with a walk off home run, one of two on the day, by Elise Nordgren for the win. The bats were strong all day, with an additional home run by Natalie Razum, and a team batting average of .455 for the weekend.
Players, coaches and sponsors interested in the Fall 12U and 14U teams should reach out via the team's website. ([https://palmettofury.com/contact/)
Media contact: Joe Razum, phone: 803.203.2756 email: coach@palmettofury.com