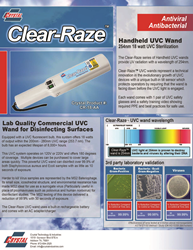 The Clear-Raze™ UV-C wand blows the competition out of the water with its 18 watt UV-C output and laboratory grade commercial construction.
ADDISON, Texas (PRWEB) July 08, 2020
Crystal Technology and Industries Inc. (CTI) is now accepting pre-orders for Clear-Raze™ their new 18-watt UV-C Short-Wave Ultraviolet sterilization wand which ships in August. The rechargeable wand provides quick and convenient chemical free sterilization of surfaces. Clear-Raze™ has been third party tested on both gram-positive and gram-negative bacteria achieving reductions of 99.99% within 10 seconds of exposure. When tested against viruses the Clear-Raze™ device provided reductions of 99.99% within 30 seconds of exposure.
Crystal Tech's Clear-Raze™ is a rechargeable wand that provides 18 watts of UV-C light. Ultraviolet light has been used for over 40 years in hospitals and water purification units. This product brings the power of UV-C light to a handheld unit perfect for quick and effective elimination of bacteria and virus.
The Clear-Raze™ wand provides UV-C light at 254nm which is ideally suited to destroy the genetic material, DNA and RNA, of viruses and bacteria. The power of ultraviolet light sterilizes surfaces without the use of chemicals and disposable wipes saving you money and reducing waste.
The Clear-Raze wand provides an easy to use form factor for sterilizing high-touch areas such as those found in offices, hotels, and other public places. The rechargeable wand is built with the same lab quality engineering that Crystal puts into all their products. The Clear-Raze™ wand is built for commercial use and comes with a pair of UV-C safety glasses. The UV-C bulb is rated for 8000 hours of use and is user replaceable.
Crystal Technology and Industries (CTI) is a manufacturer of scientific instruments and laboratory supplies for Bio-Science and Research laboratories, this product provides laboratory quality UV-C light for use in commercial facilities to sterilize surfaces from bacteria and viruses.
About Crystal Technology and Industries:
Crystal Technology & Industries Inc (CTI) manufactures instruments and supplies used in medical and scientific research. We are committed to serving the research community with unmatched value and personalized service.
Our goal is to provide total customer satisfaction with our products. We are focused on building long-term relationships with our customers by providing unmatched service and product value.
We utilize the expertise and skill of more than 40 professional engineers in our R&D department who maintain close relationships with several major life-science research institutions and hospitals to incorporate leading edge technologies into our products and keep abreast with the latest needs and issues facing their labs.
CTI's team of quality control personnel and failure analysis engineers continually improve our products to ensure we are delivering the highest standards to your lab.
CTI LinkedIn page:
Visit our LinkedIn page
Contact:
Chad Bowers
Director of Marketing
972-934-2525
crystalindustries.com
Crystal Technology and Industries
15151 Surveyor Blvd Suite A
Addison, TX 75035