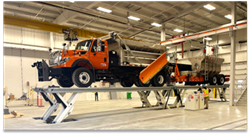 We are particularly proud of this achievement as the past year was marked by extensive supply chain interruptions, higher raw material prices, and significant uncertainty in the global economy.
STEVENSVILLE, Md. (PRWEB) January 17, 2023
Heavy duty vehicle lift leader Stertil-Koni, recognized for delivering safe, dependable and award-winning bus lifts and truck lifts across North America, today announced that the company has reported record lift orders, sales, and installations for full year 2022.
"We are particularly proud of this achievement," noted company President, Dr. Jean DellAmore, "as the past year was marked by extensive supply chain interruptions, higher raw material prices, and significant uncertainty in the global economy. Nonetheless, our extended team – which includes Stertil-Koni employees strategically serving the U.S. and Canada --- along with a dedicated network of long-established, highly knowledgeable distributors – performed at the highest levels.
"Making the milestone even sweeter," he continued "was that fact that 2022 was a year in which we celebrated Stertil-Koni's 25th anniversary in North America."
So what's the magic sauce? "Fueling this growth" DellAmore remarked, "is the loyalty and devotion of our exclusive nationwide distributors and an unwavering focus on delivering the very best customer service in the heavy duty vehicle lifting segment."
A quarter of a century after its U.S launch, Stertil-Koni lifting systems today are used in bus and truck maintenance facilities across North America, including major transit agencies, trucking companies, state agencies, the U.S. Military, police, fire, emergency rescue, the aviation sector, pupil transportation and a host of additional vertical industries.
Stertil-Koni heavy duty vehicle lifts are also recognized for product features that are expressly engineered for optimal performance and operator safety, including:

Construction utilizing maximum strength, high tensile steel
Full-color touch screen control console on all models
Rapid lifting and lowering every time
Dependable hydraulic technology
Synchronization for maximum safety and convenience
Mechanical locking system to prevent unintended lowering
World-class service team with 24/7 customer hotline
Among the most popular lifting systems in the Stertil-Koni portfolio are its flagship Mobile Column Lifts, as well as the in-ground telescopic piston DIAMONDLIFT, the in-ground scissor-style ECOLIFT, the full vertical rise platform SKYLIFT, as well as the 2-post FREEDOMLIFT and 4-post lifts. The sheer breadth of lifting options is a unique approach that the company aptly calls "Freedom of Choice."
Concluded DellAmore, "Because Stertil-Koni offers the broadest range of ALI (Automotive Lift Institute) certified heavy duty vehicle lifts in the industry, we can match any customer need with a world-class lifting system that is tailored for a particular type of vehicle, application and even geographic location. That is truly a 'next level' degree of customer care.
About Stertil-Koni
Stertil-Koni - proud to be a Buy America company - is the market leader in heavy duty vehicle lifts, notably bus lifts and truck lifts, and proudly serves municipalities, state agencies, school bus fleets, major corporations, the U.S. Military and more. Stertil-Koni's breadth of products meets all ranges of lifting needs and includes portable lifts such as Mobile Column Lifts, 2-post, 4-post, inground piston lifts, platform lifts, and its axle-engaging, inground, scissor lift configuration, ECOLIFT. The company's innovative, inground telescopic piston DIAMONDLIFT is now available with an optional Continuous Recess system, ideal for low clearance vehicles. Stertil-Koni USA is headquartered in Stevensville, Maryland with production facilities in Europe, The Netherlands, and Streator, IL.