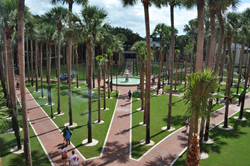 Earning a degree can make a significant difference in career advancement.
DeLand, Fla. (PRWEB) June 29, 2016
With nine million unemployed workers nationwide in 2010, there were still more than seven million jobs unfilled in the United States, and that number is projected to increase to 21 million by 2020, according to the Council of Adult and Experiential Learning (CAEL). Closer to home, less than 32 percent of Florida workers have an associate's degree or higher but more than 60 percent of positions in Florida will require a post-secondary education, as evidenced by U.S. Census Public Use Microdata Sample information.
From these statistics it is apparent that workers with a bachelor's degree are highly competitive in this job market. In January 2017, Stetson University will offer a new Bachelor of Arts in Organizational Leadership, a new adult degree completion program, in its Boundless Learning division. Designed especially for adults with an associate's degree or equivalent college experience, this program helps those who -- for whatever reason -- never finished a four-year degree.
"There are many accomplished individuals who, for one reason or another, never finished their bachelor's degree," said Joy McGuirl-Hadley, Ed.D., associate vice president of Boundless Learning. "For some, earning that credential could make a significant difference in their career advancement. For others it is an important milestone of personal growth."
An interdisciplinary program, the organizational leadership curriculum prepares students to succeed in a global society by promoting critical thinking, writing, creativity, ethical decision making, social justice and emotional intelligence.
"Many adult students have years of learning outside of the formal classroom," said Shawnrece Campbell, Ph.D., program director and chair, "and they may be able to turn experiential learning into valuable college credits." According to program information, up to 16 credits are available for prior experience for this degree.
To accommodate the busy lives and professional commitments of most adult students, all courses are offered with a blend of online and in-person work. Cohorts of 15-25 students will enter the program and take courses together through the completion of the program, meeting nights and weekends. The cohort format allows students to forge a supportive educational foundation while accomplishing their goals.
In addition to a Bachelor of Arts in Organizational Leadership, Stetson will offer five industry specific focus areas:

Healthcare/public health
Financial services
Hospitality and entertainment
Information technology
Nonprofit and government
"Whatever your educational experience has been – and for whatever reason it was interrupted – if you're serious about finishing what you started, we're serious about helping you reach your goal," said McGuirl-Hadley.
For more information, call 386-822-7500, email organizationalleadershipdegree(at)stetson(dot)edu or visit Stetson.edu/boundless-learning.
About Stetson University
Founded in 1883, Stetson University is the oldest private university in Florida, providing a transforming education in the liberal arts tradition. Stetson stresses academic excellence and community-engaged learning, and consistently earns high marks in national rankings. Stetson encourages its students to go beyond success to significance in their lives, the lives of others and their communities.