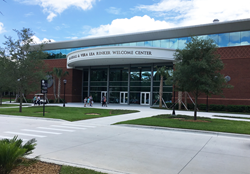 Visit our campus for a broader perspective of all our close-knit, engaged Stetson community has to offer.
DeLand, Fla. (PRWEB) September 12, 2017
Stetson University ranks as sixth on US News & World Report's 2018 list of Best Regional Universities (South) among the 142 schools in this category. The new list was released today.
"Stetson provides a personal learning experience for students, with access to top quality faculty focused on learning outcomes," said Stetson President Wendy B. Libby, Ph.D. "We challenge our students to go beyond success – to become significant in their communities, nation and the world."
US News defines Regional Universities as offering a full range of undergraduate programs and some master's programs but few doctoral programs. There are four regions: North, South, Midwest and West.
US News includes Stetson on its lists of Best Regional Universities South for (rank): Best for Veterans (4) and Best Value (15).
In addition, US News lists Stetson among the Best Business Schools, Best Online Graduate Business Programs — Excluding MBA (40) for its nationally recognized online Master of Accountancy (MAcc) program; and Best Online MBA Programs (100). US News ranks Stetson University College of Law first for Trial Advocacy, fourth for Legal Writing, and includes it on the Best Law Schools (96) and Part-time Law (24) lists.
"At Stetson, we take pride in being recognized as an academically rigorous institution that places a high value on global citizenship, personal growth and social responsibility," said Libby. "While we recognize the value of national rankings, we encourage prospective students and their parents to visit our campus for a broader perspective and for the opportunity to 'test drive' all our close-knit and engaged Stetson community has to offer."
About Stetson University
Founded in 1883, Stetson University is the oldest private university in Florida, providing a transforming education in the liberal arts tradition. Stetson stresses academic excellence and community-engaged learning, and consistently earns high marks in national rankings. Stetson encourages its students to go beyond success to significance in their lives, the lives of others and their communities. Stay connected with Stetson on social media.