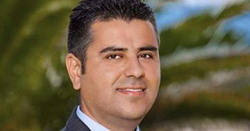 He was able to tend to several injured people who would have otherwise waited hours for medical treatment since all of the local hospitals were closed. His team discovered several deceased persons
Santa Monica, CA (PRWEB) April 07, 2015
Steve Farzam, the chief operating officer of the Shore Hotel, is pleased to announce that he is planning on giving his time to help the less fortunate. During July, he will go to the Westside Food Bank in Santa Monica, Calif. and help feed the people who have gathered there for a meal.
The fact that Steve Farzam would take time out from his incredibly busy career in hotel management and the hospitality industry will not surprise anyone who knows him. For years, he has been an active and generous member of the Santa Monica community who is willing and able to give back and help others.
As a spokesperson for Steve Farzam explained, he has always had a passion to help his fellow man and woman whenever and however possible. In addition, as an avid animal lover, he is devoted to those who walk on four legs.
As a certified flight paramedic, Steve Farzam learned years ago that even though he was paid to do his job, he was destined to do much more.
"On September 1, 2005 Mr. Farzam immobilized with a Disaster Response Team that was comprised of 11 highly trained professionals to respond and aid to those who were victimized by Hurricane Katrina in New Orleans," the spokesperson said, adding that during his 10 day deployment, Steve Farzam aided FEMA and several other agencies in locating and rescuing humans and animals left behind.
"He was able to tend to several injured people who would have otherwise waited hours for medical treatment since all of the local hospitals were closed. His team discovered several deceased persons."
"This was an awful tragedy that was unexplainable, but there were lives that were depending on us," Steve Farzam said, adding, "if given the opportunity I would gladly do it all over again".
Steve Farzam was so impacted by his experience in Louisiana, he is now devoting to helping others whenever he can. He also applies the same values of kindness and dedication to his work at the Shore Hotel.
About Steve Farzam:
Steve Farzam enjoys his free time with family and friends, especially being a fun uncle to his 12 nieces and nephews in Santa Monica, California. He loves to cook and entertain and as an avid collector, Steve Farzam loves restoring classic vehicles. In his spare time, Mr. Farzam enjoys flying fixed wing aircraft and volunteering at local hospitals with his dogs that are certified in patient therapy. He credits his parents, Dr. and Mrs. Siroos Farzam, for instilling a strong work ethic, a passion for service and a love of hospitality, along with an appreciation for living each day to the fullest, always treating others with kindness, humility and not taking anything for granted. For more information, please visit http://stevefarzam.com/